Hi Nyima, I am setting these photos into any webpage because I think that it is the easiest way to do it. I want to do this newsletter like a year in your school so I think I have them scrambled so I will need your help please. Also I would like it if you could add a few sentences to each image please.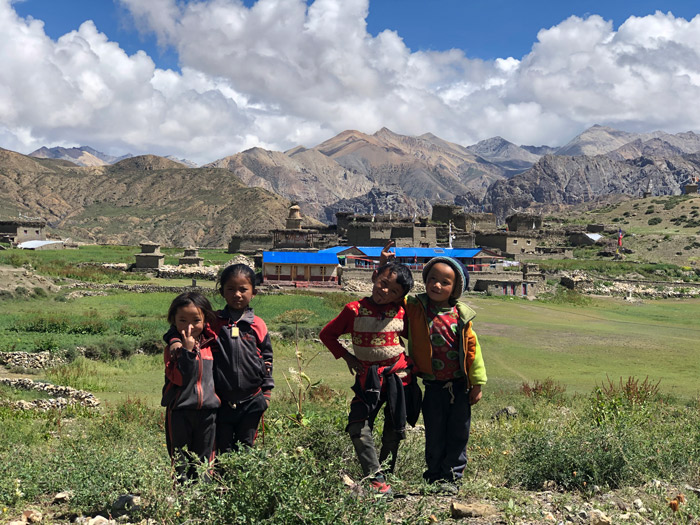 1. 
This year we have 34
student
in a year 2021
.
Nursery -7
Class KG-6
Class 1- 4
Class2- 5
Class3-4
Class4-4
Class5-4
Total 33 students, who come regularly school. Registered children 34 one don't come regularly.
2. This year we have 4 students who are finishing primary level and coming down to Kathmandu for secondary and higher level.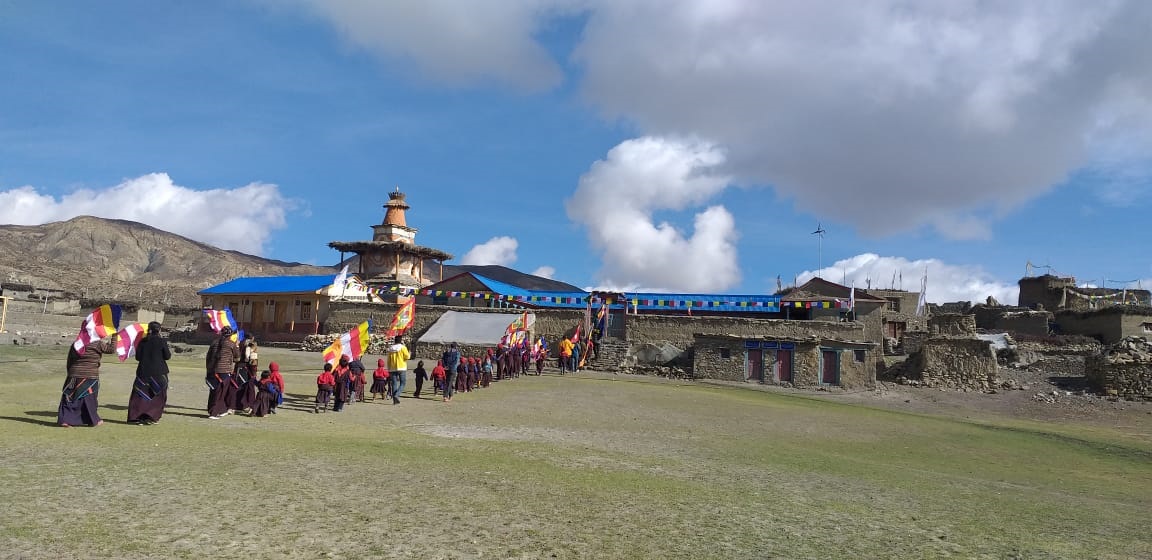 Classes 8:30 – 5 

After School, mostly children help family as taking care f small babies, bringing water from far away, helping in fields and looking after animals like sheep, goat, etc)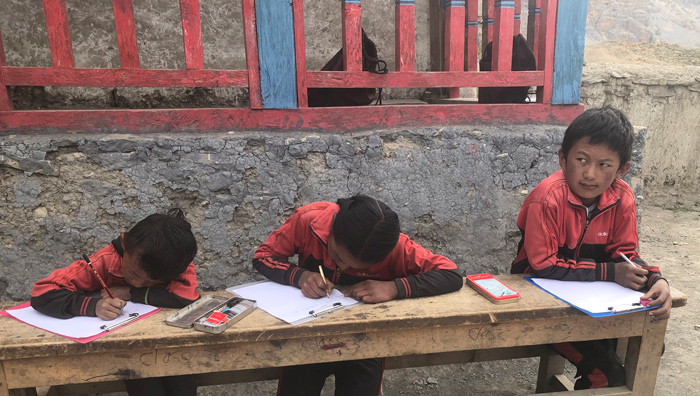 This year Tsering Lhadron is going to teach elder like how to write names, how to count and especially they want to learn some prayers … for 2 month. She already started from first week of November. The entire elder are so happy to learn
Class session of 2021 was started on April15th.In April Komang Rinpoche as our school founder distributed stationaries, dresses, etc We events sports on every Tuseday after lunch break and in very 4th Friday we took education tour to different places in komang villages.Rest of the day we focused on study and ran school smoothly without any obstacles. Every Friday we have cleanliness program for school environment, class room for 1hours and half.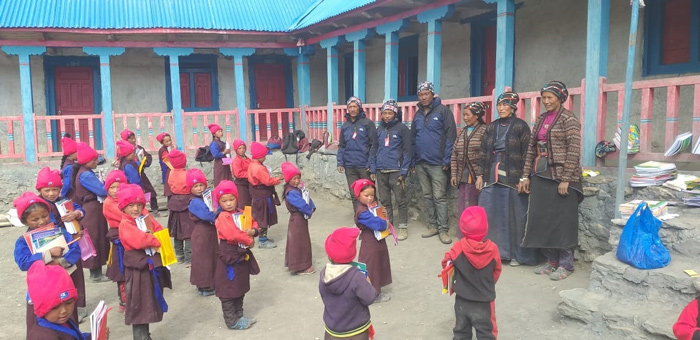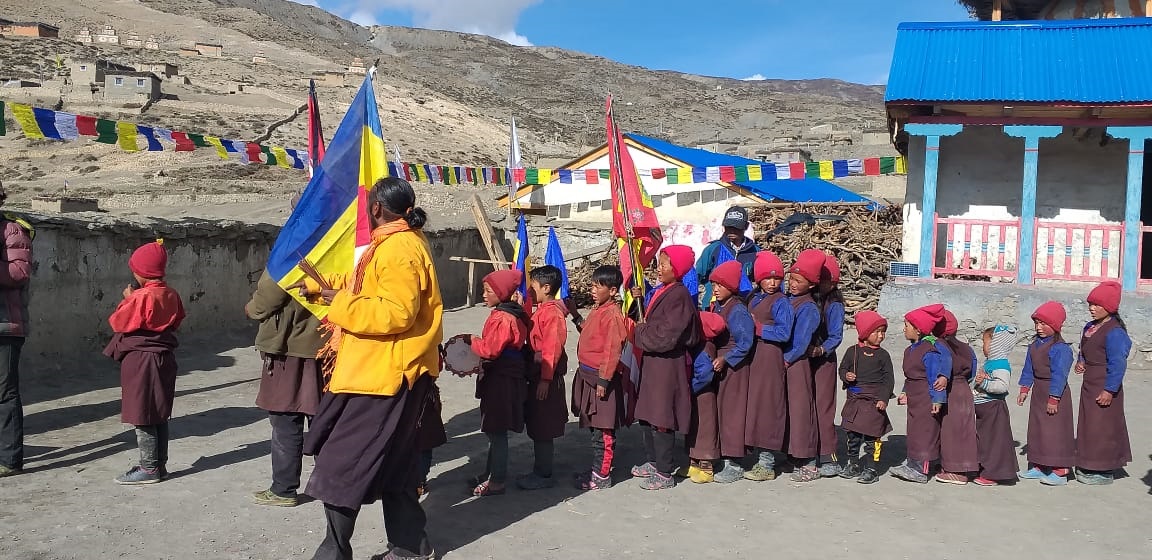 In May, we ran normal for study and those days we faced very cold because during that time the weather was snowy and windy. So, for play group we taught in kitchen by burning fire. 
In this month we have occasional that was Birthday of The Buddha (Buddha Jyanti) Buddha Jyanti is one of the greatest days for all Buddhist. as usual we all school family visited our monasteries, and some holy place around in our village also on that day Rinpche distributed shoes, socks, hat,  etc it is one of the most needed and helpful for all students because of cold its very warming…
In June we focused on studies. After that the weather becomeswarm and moderate. At those days our ward Chairmandistributed masks and thermo meter for students as well as staff because of virus which is roaming and playing around us.
In July we mainly focused on studies. This month was bit different that other of this year that all the teacher taught how to make paper flowers, as well as decoration as well as fan, insects, etc to increase students' talent capacity. From 15th werepreparing for half yearly examination. We took exam from 21st– 27th July. Besides that we taught them dance and some songs for result. on 28th we had result of Half yearly examination. We had 80% result and gather with all parents and school family we announced result and showed some dance and song that we taught.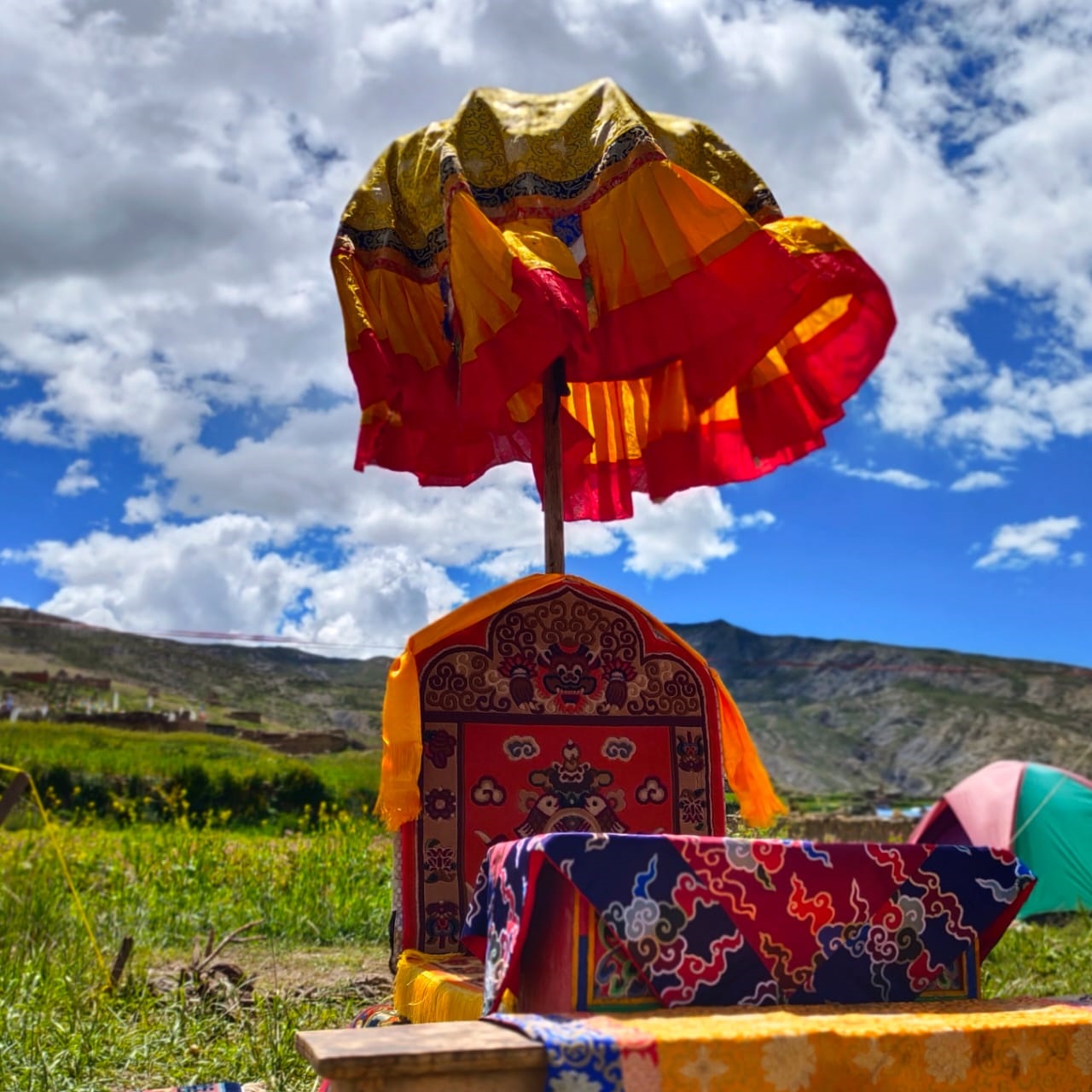 Would somebody else have photos of the last day?
From 30th July for 11 days Our Komang Rinpoche held prayers program as retreat with many lama and monks around upper Dolpo area to remove all the obstacles specially diseases. They are around 63 monks. We saw when they arrive and after that they stayed meditating as retreat for 11 days and we are not able to see them. It was one of the most precious and blessing prayers program which held this year. They rest on 12day and on 13thday Our Rinpoche as Komang Rinpoche along with Jigme Rinpoche, they gave enthronement blessing to all the villagers. After knowing both Jigme Rinpche and Komang Rinoche are holding prayers together, many people came to get blessing on that day from different villages. More than 1200people came to get bless on last day. We think it is because Margo Rinpoche, Jigme Rinpoche and Komang Rinpoche are the ornaments of Dolpo in religious ways.
August, at first week we taught students how to write clean and neat hand writing all three languages and Remaining days for studies. Also Komang Rinpoche as our Founder gave us 10,000Rs after prayer ceremony. So we had great meal, as a picnic with all the students, school staff. It is one of the fine days of this year's 2021.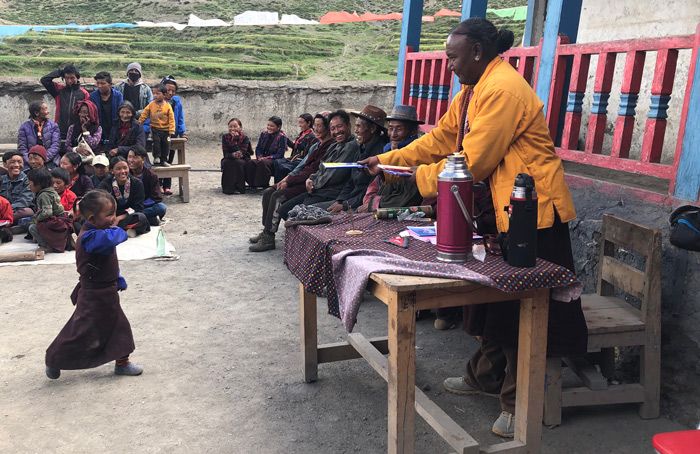 The students receive their results and prizes. Speeches are made. The students perform dances, song and drama. Like last year villagers provided a meal from their own money (by bringing along food to share).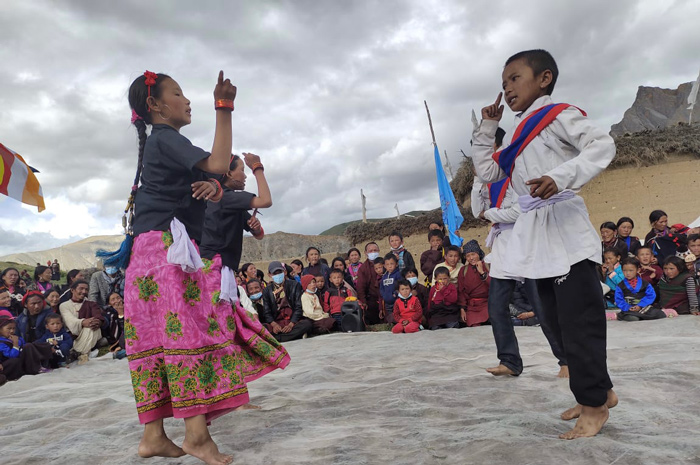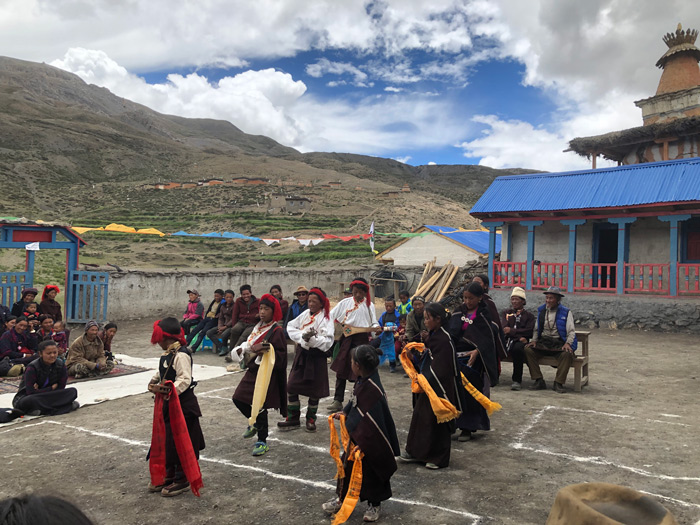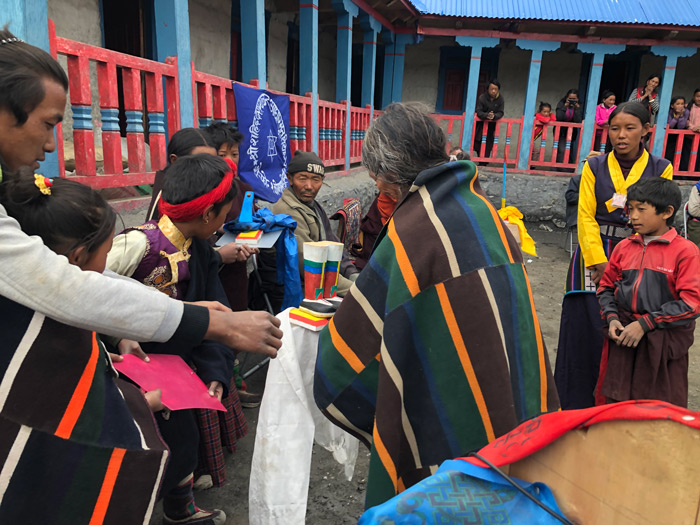 September we had normal class. On 9th of September Rinpoche distributed sports dress for staff. In that month we had cultural contest, sports contest and literacy contest between 2 house which is started last year when miss Nyima Bhuti and her team held. It is very interesting and helpful for our students to learn how to make wall magazine, debate, and drawing, essay writing, quiz contest, etc
Best player is Tsering dhondup who is from class 3.
Students of the year cup won by Pema Wangmo who finished class 5 this year.
Our house are called Daying Ringmo and Thamlung Karmo..This year too Daying ringmo won the entire cup.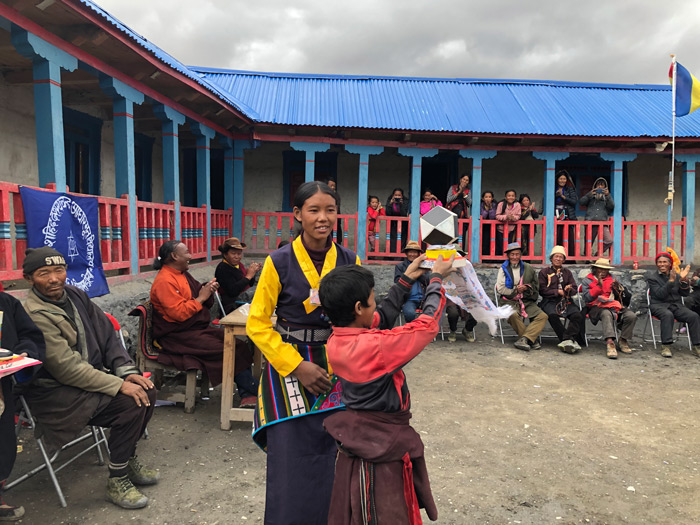 1 is cup of culture which is our traditional shoes…
2 is cup of sports which is football
3 is cup of literacy which is book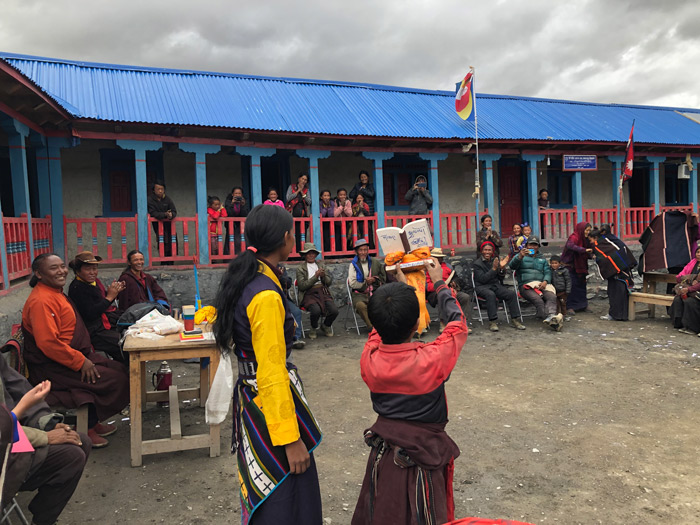 In October as normal taught and mainly focused on studies usually our final examination held on October. When exam was near students studied and at the same time children helped family. During the time our villagers are having harvesting, beating grains, etc at the end of October we had our final examination and our result was 100%. All the students, parents and of course teachers are so happy for the successful year 2021. We closed on 27th of October 2021.
And winter school will start in mid-November 2021.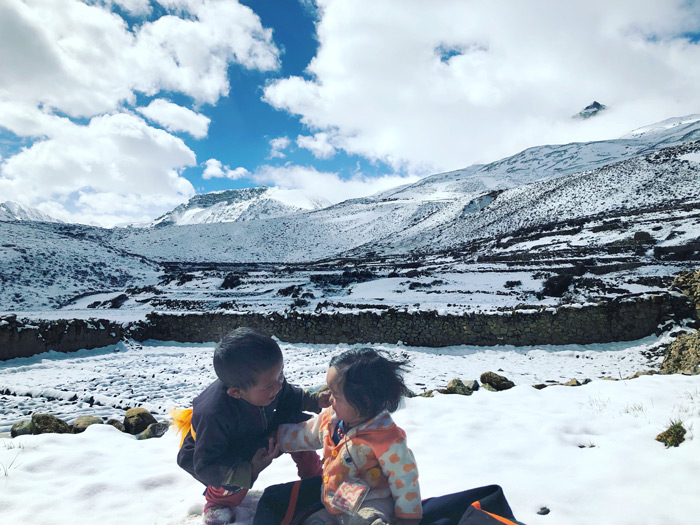 . Winter school
This year we planned to start winter school from mid November. And our school SMC meets and they planned to give more focused on studying Tibetan language reading and writing for 2 month. As usual our teacher is local teacher Lama Tenzin. And we planned to start normal class after 2 month as depends weather if its snow much then will give home activities to do and if the weather went fine then will start class as usual.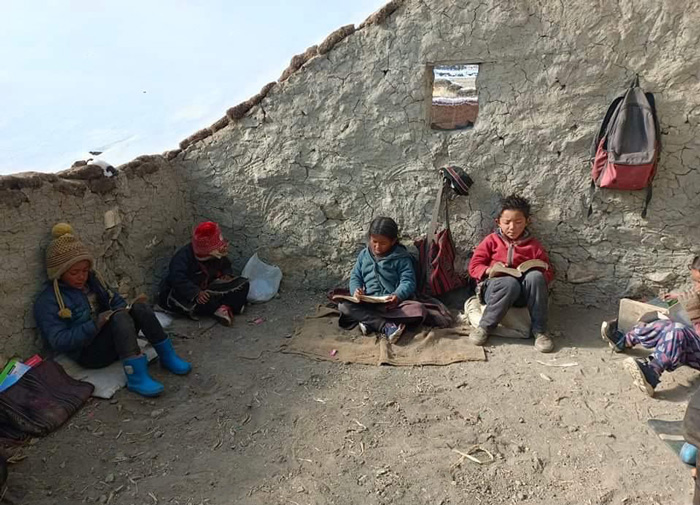 Pema sangmo taught in Moe School. MOE school: they have 9 student this year.
– moe is name of one small village and there school named moe school. moe school is school which we have been sharing our books, stationary and Pema sangmo have been take care of these children since 2 year now. before one of our Rinpochea disciple have been taken care of them.
With proudly we can say that one of our own students who passed primary level in komang School and secondary level in Komang Hostel become teacher and taught in komang school. She is science and health teacher in our school. She is very happy with everything there at school.
Pema sangmo taught in Moe School.
MOE school: they have 9 student this year.
This year the entire teacher taught fully from the beginning to till the time. As usual like last time we shared one teacher with Moe school and we did taught combined class. it was successful year.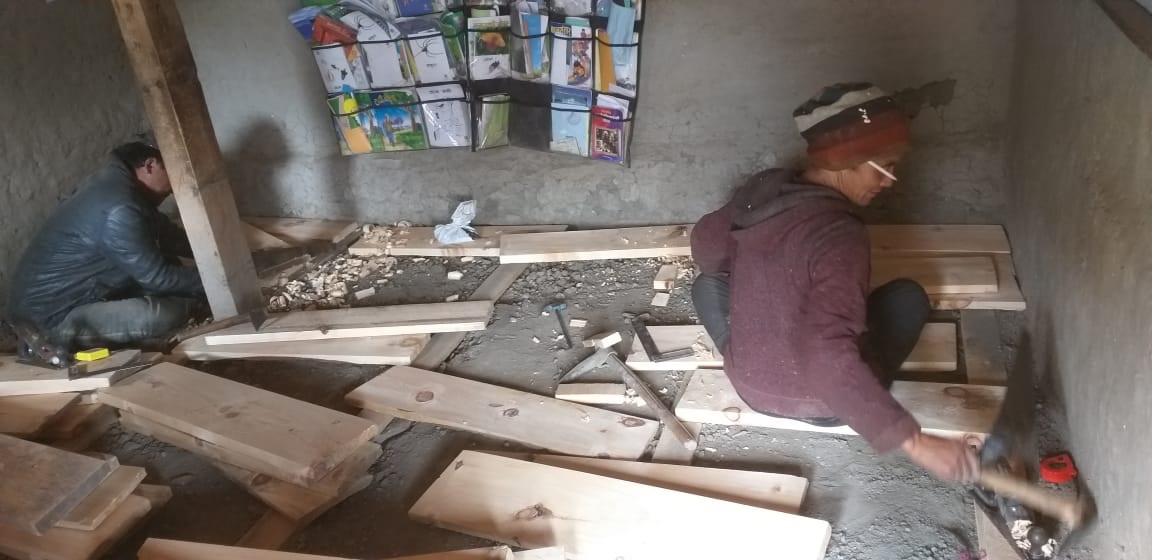 With help from Rinpoches friends we are able to put wood floor in all the class room. It was very very helpful and warm for children. We heartily thank him and his entire family for being so kind for our school on this path. It will be useful for many years aheads.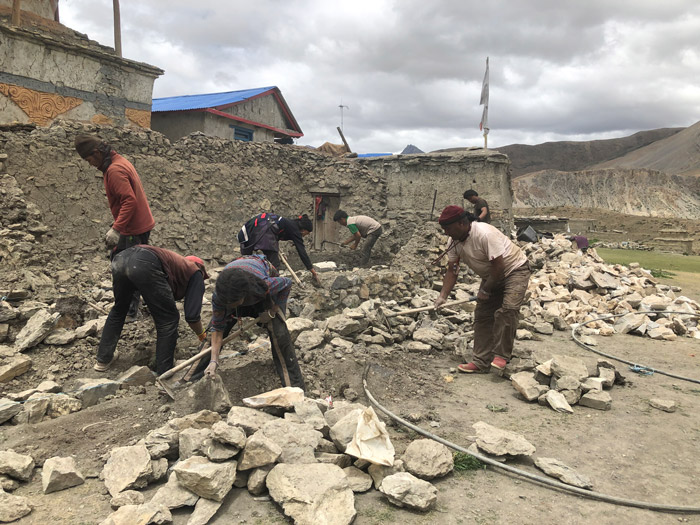 School Compound
This year we build a gate and wall boundaries around our school. It is very nice and good environment for school.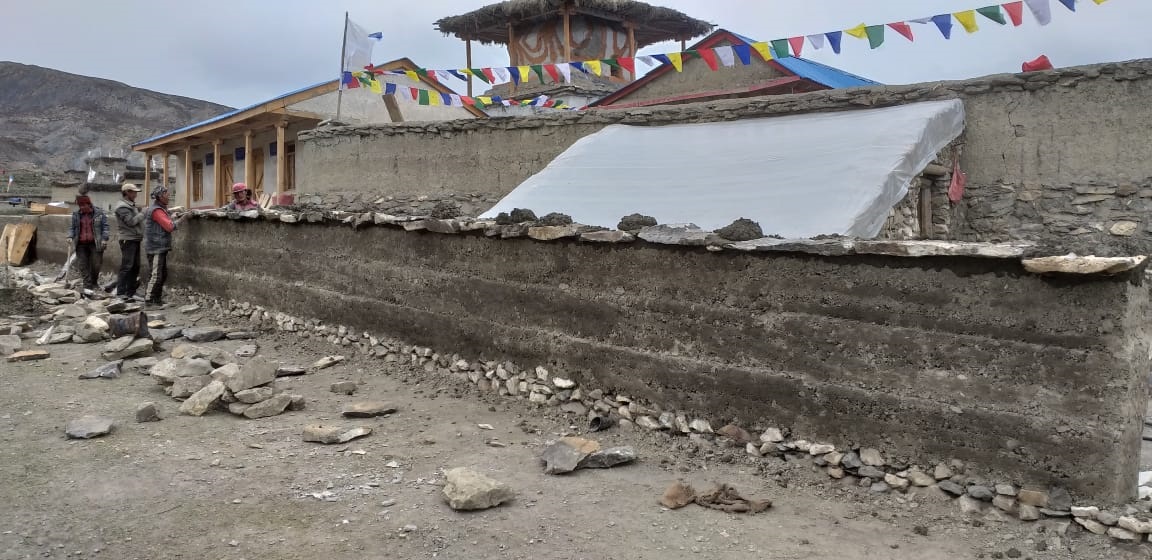 Also we would like to change stair in our school which is very risky to fall smaller children for the next year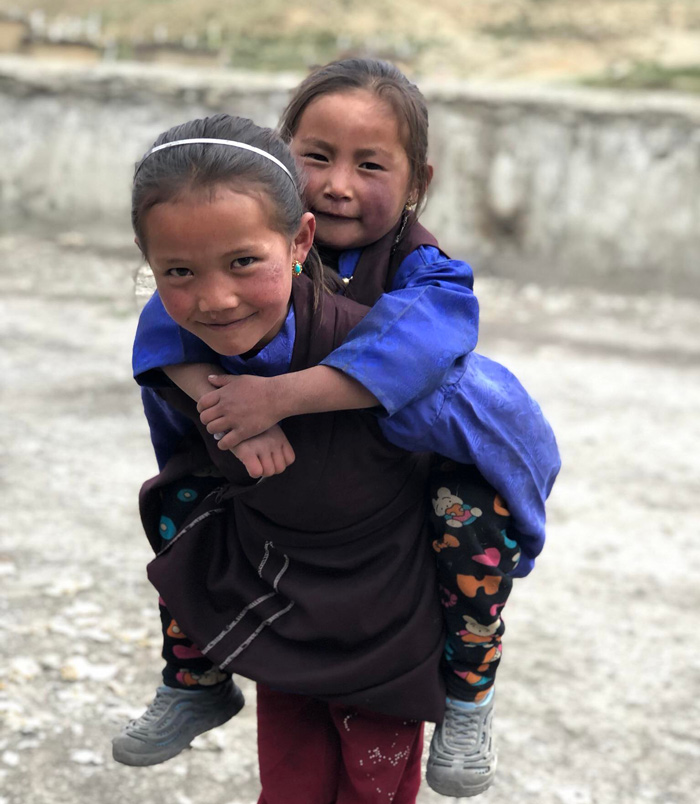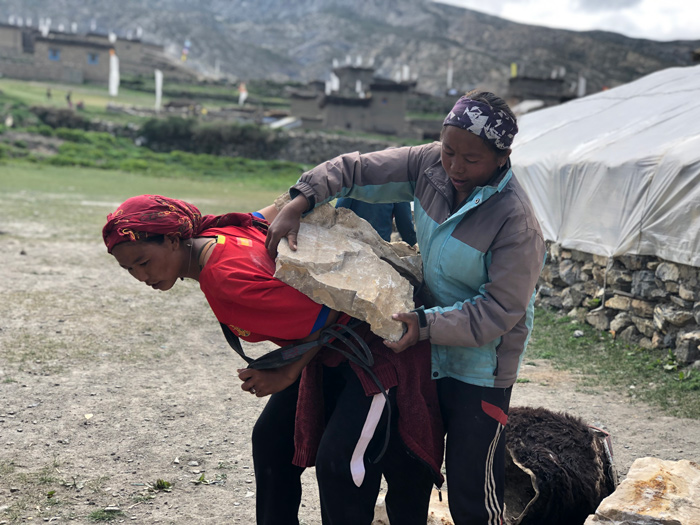 We would please please please love to use this image of students returning to their school to help.
This year we rebuild green house. Now it is warmer and cosier for winter school and vegetables for summer.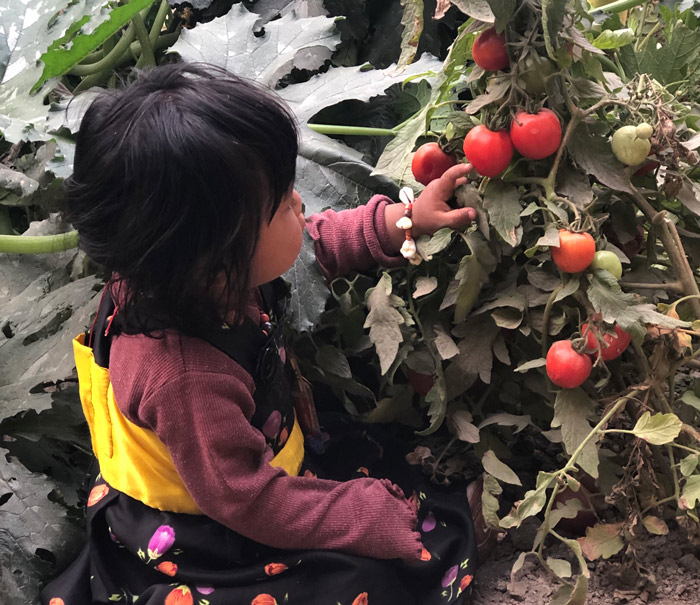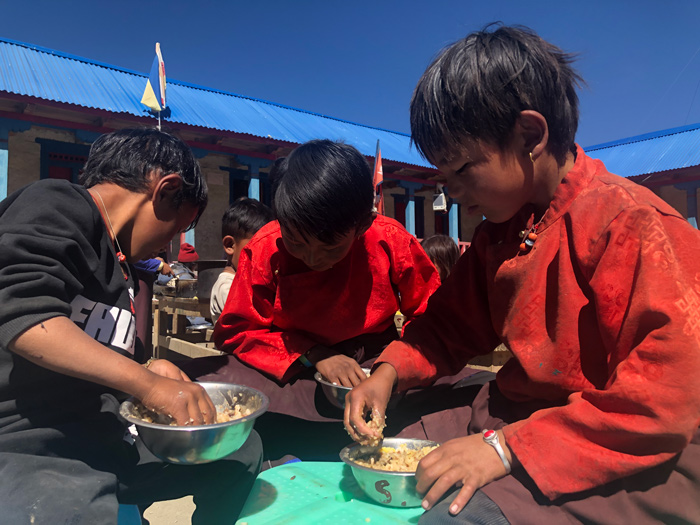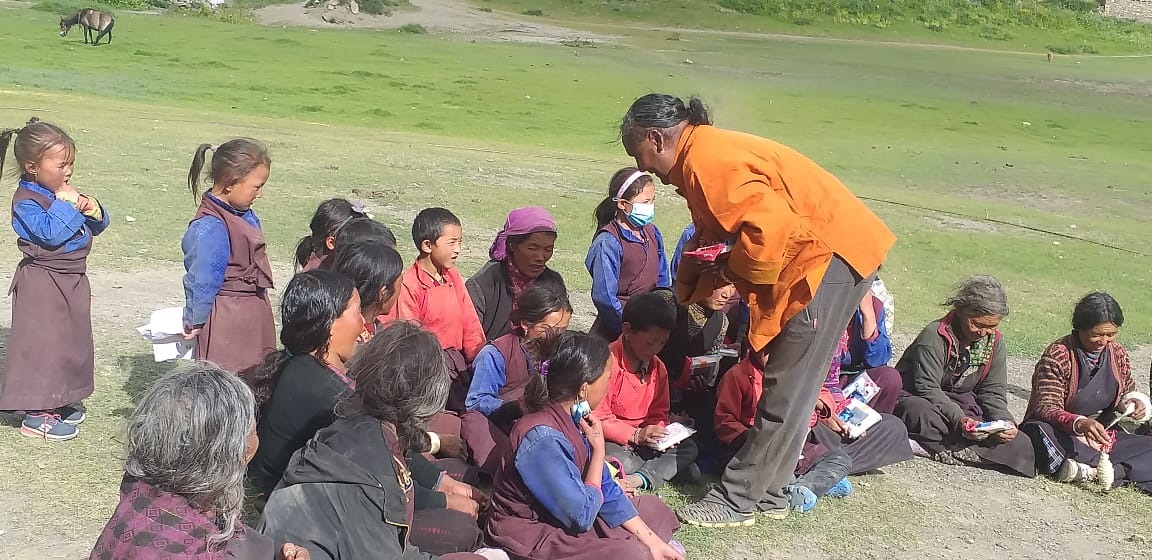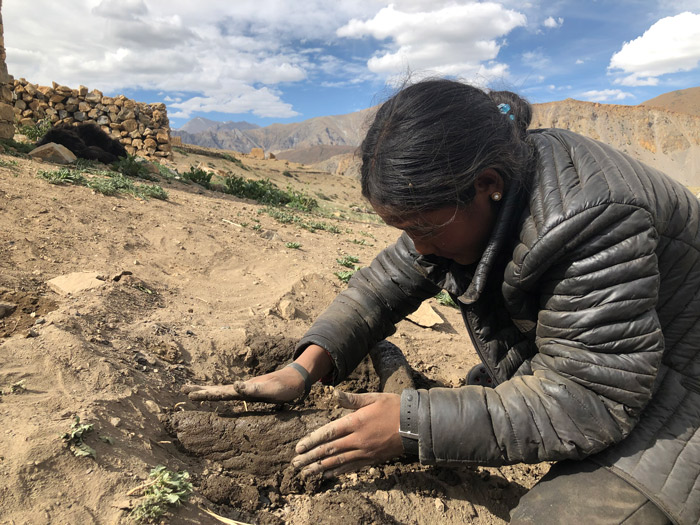 Is this person planting tree cuttings?
We tried to plant some trees around school area but we find all are decay after 2/3 months. We would love to learn some idea about tree and plant to grow in the area of komang village not only school.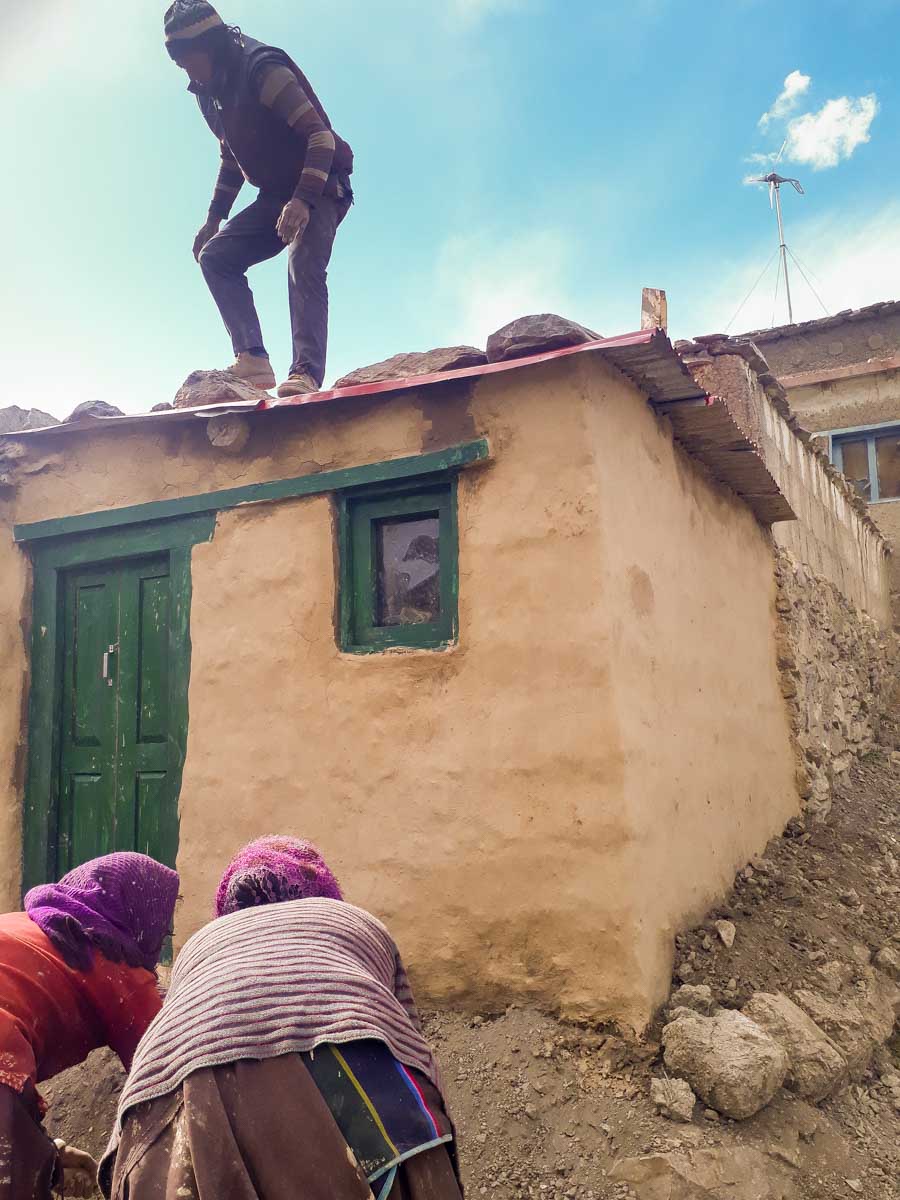 This year we faced much problem of water leakage in toilet that one of our toilet roofs was broken. We rebuild toilet roof and even put cements on toilet wall. It took a week to complete this entire works. We think no problem for the upcoming year.
Is this the flower that Komang takes its name from?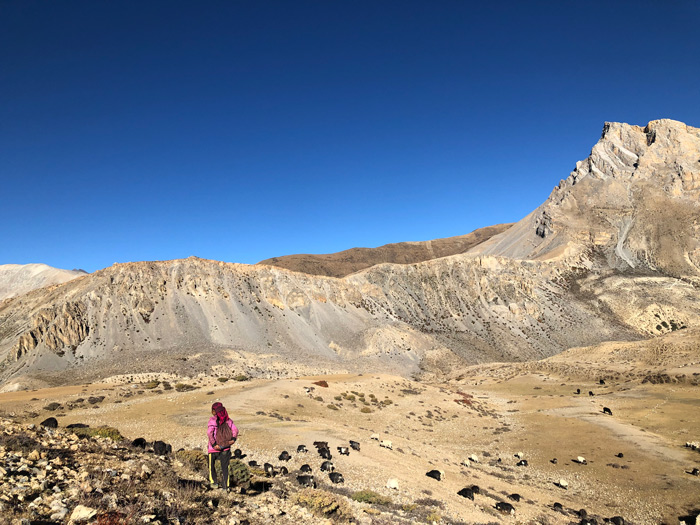 Can you please write  few sentence to go with this image?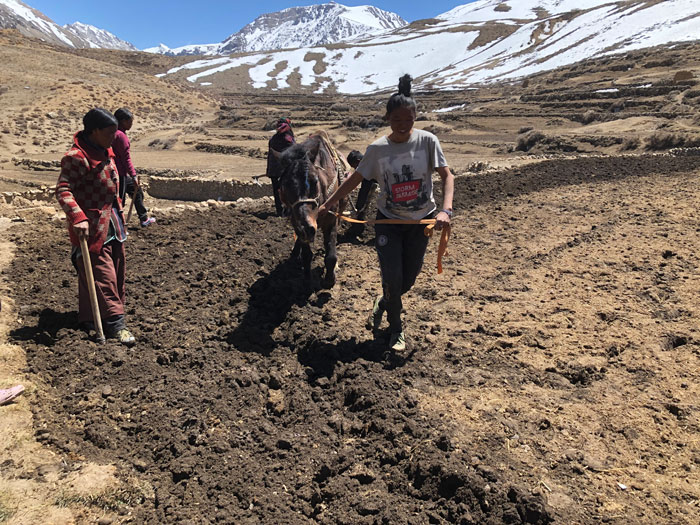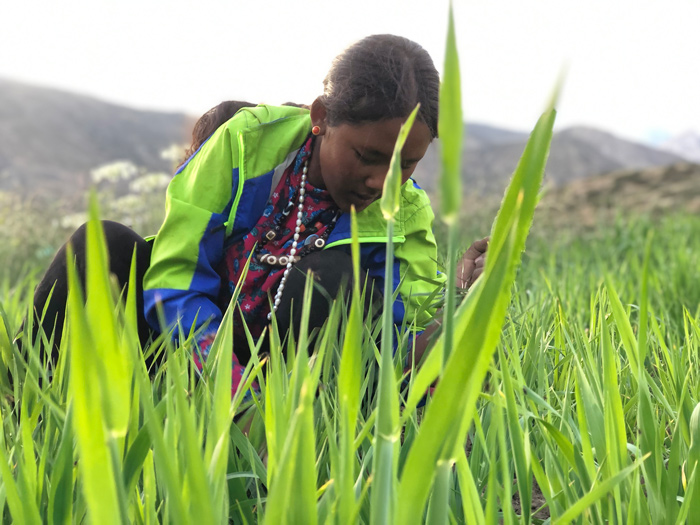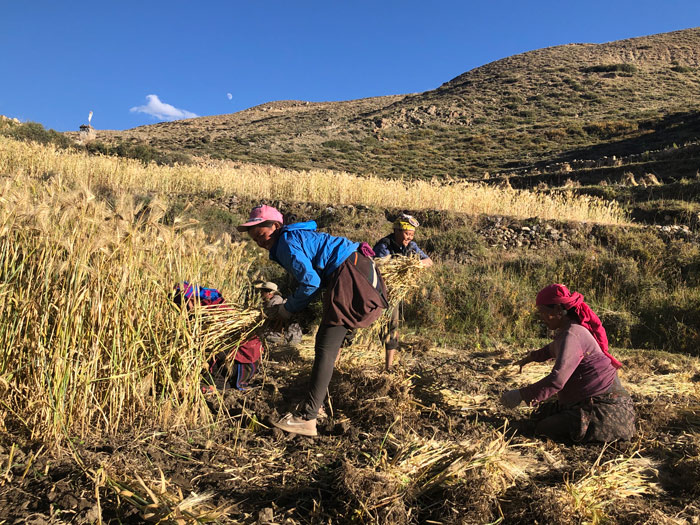 How was the harvest this year?
we would like to build small clinic in future.
It always seems impossible, until it's done.
– Nelson Mandela.