Schools in the Upper Dolpo only teach to grade 5 or 6. Children wanting further education must move to Kathmandu. Each village has a hostel in Kathmandu where the students live and study with other children from their village. They are supported by hostel staff, who are also from their village. This helps to maintain a sense of community and culture – a critical factor when they move from a village of a few hundred to the unfamiliar and chaotic environment of Kathmandu, population 1 million. At today's exchange rate it costs approx $1,200. per year. This is a financial impossibility for families in the Upper Dolpo who struggle to make a living through subsistence farming.
Shelter108 accepts students with qualifying grades from throughout the Upper Dolpo and Tibet. It has space for up to four students from Saldang each year. When there are more qualifying students wanting to continue their studies alternate arrangements for accommodation have to be made. Students from Komang are cared for at the Himalayan Komang Hostel. The village of Karang recently opened a hostel for its grade 5 graduates. 
Education is not taken for granted here on the Dolpo. It is a long journey to Kathmandu, a week by yak to the nearest roadhead, and then another week by local buses to Kathmandu. These are bright, highly motivated students, many of whom are wanting to return to their villages as teachers, engineers and health care professionals!
2 Recent Graduates Return Home
Tsering Wangmo (left) and Pema Bhuti (right) are Shelter108 girls who completed their nursing studies and received licenses from the Nepal Nursing Council in late 2019 and have returned to the Upper Dolpo to serve the community there.
Tsering Wangmo was hired by Schulverein Lo-Mangthang and is responsible for the health care needs of Namdo and its neighbouring villages. Pema Bhuti was hired by Shey Phuksundo Rural Municipality. She is based in Nisal Village and is caring for the people of Komang and Khu villages.
Congratulations!
image courtesy of Shelter108
The Himalayan Komang Hostel in Kathmandu
This is the hostel in Kathmandu for students from the village of Komang. Altitude Project is helping support the school there. Also a picture of me, David, with the hostel manager, Nyima Bhuti from Komang.
Nyima Bhuti graduated from the very first class at Saldang and later finished her higher education in Kathmandu. She wrote, "Saldang School is very, very important, it opened the light in my life. I am very grateful to the people who supported my studies. The only way I could give back to those supporters was to work as a teacher in Komas, my village in the remote mountains of the Upper Dolpo, a full days walk east of Saldang."
The children graduating from class 5 at Komang could not afford to continue their education in Kathmandu so her father, Tulku Lama, with generous help from donors in Spain, set up a hostel for them in Kathmandu. Unfortunately, there was not enough money to pay anyone to care for the children. Nyima was attending university in Kathmandu so her father asked her to volunteer as the hostel manager.
She currently cares for 30 students; some of her first group of students have now finished class 12 and desperately want to attend university; one wants to become a dentist and the other a doctor – both with the intent of helping the people in their village and the Dolpo at large – but, sadly, funding for them is not available. Nyima also teaches Tibetan language and culture to the students early each day before school begins as it is not taught in the school they attend. She is still doing all this as a volunteer.
In 2019 I did a photoshoot of the children in the Komang and Karang hostels. You can see their beautiful smiles in this gallery.
Karang Hostel in Kathmandu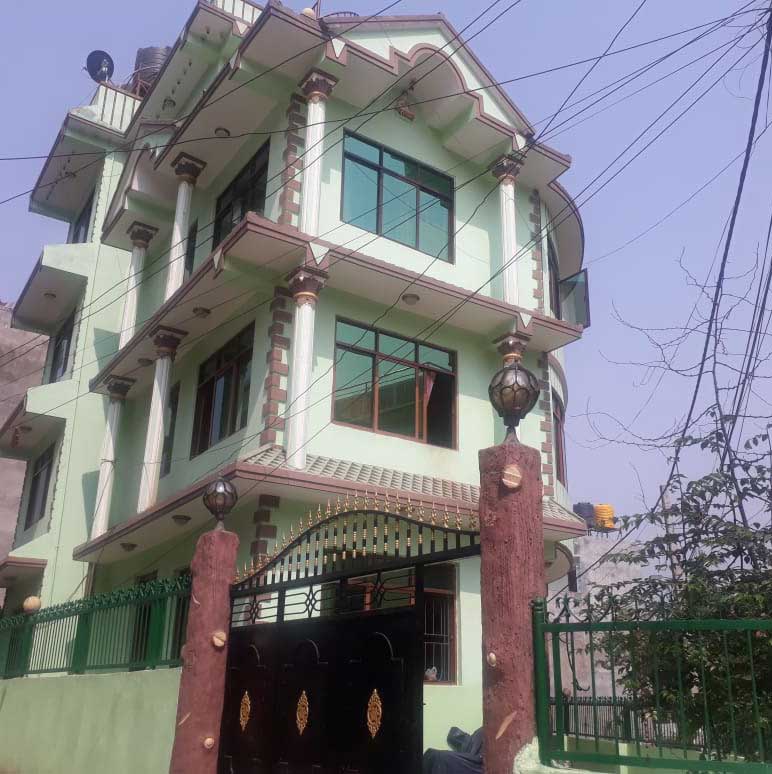 The village of Karang recently opened a hostel for its grade 5 graduates. Funding was provided by the government for the first half of the year but the hostel requires support from the international community to continue. The anticipated operating cost is $10,000 US. That includes rent, utilities, food, school fees and supplies and staff wages. Our dream is to find sponsors who want to help with this project on an ongoing basis. If this interests you, please email me.  And if you ever travel to Nepal, the hostel would be a very easy place to visit to see the fruits of your kindness.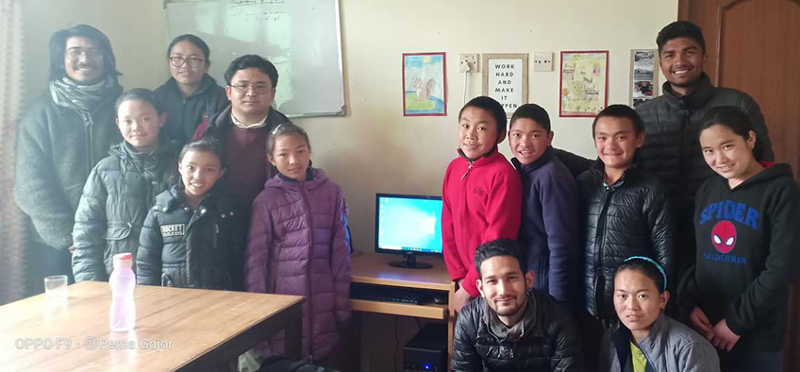 'Our' student in Kathmandu
Altitude Project is supporting Tenzin Norbu from Saldang. He is living and studying at the Srongtsen Bhrikuti Boarding High School, it is a Tibetan Boarding School of the Tibetan Exile Government. For a mere $1,200 US, he is provided with accommodation, food and education, and health and dental care. Dentists from abroad come once a year to provide care for the students. 700 students attend this school, of which 200 live at the school. His dream is to become a doctor, then to return home to serve his community, and to work to protect and support the Tibetan culture. His father shares that dream and sent us a message saying that he "is very much happy and blessed with the support from Altitude Project and wishes to convey his warm gratitude and appreciation for the help".
This is Tenzin, his father and his school.
Tenzin finished class 6 at Saldang in 2016. There were seven class 6 graduates in 2016, which was terrific news, but there was a need to make alternate arrangements for three of the students that could not be accommodated at Shelter108.  Altitude Project was asked if we could support Tenzin.
He is entering class 10 this year.  I have visited his school and am extremely impressed. It is very clean and well organized with plenty of room for sporting activities like football and basketball! I have followed, and will continue to follow, Tenzin's progress during my annual trips to Nepal.
If anyone is interested in private sponsorship of a student please contact us. This type of sponsorship is not for only one year – these students need support for several years to finish their high school education, and then university education, to gain the credentials needed for their chosen professions.