Previous Projects and Events — 2019
Here is a short summary of our projects in 2019:
School is in Session – Climate Change – unprecedented snowfall
Public Health – Safe Drinking Water – Testing / Assessment
REED – Year 1 Teacher Training at Dunai – Completed!
Karang Hostel in Kathmandu
200 Days for Girls menstrual hygiene kits
Dorje Dolma Book Tour – Yak Girl!
Solar Lights by LuminAID
Additional "Ways to Donate"
The high passes were extremely difficult to cross this year due to an unprecedented amount of snowfall. Climate change is real here; in 2017 there was little to no snow in the passes and in 2019, the amount of snow delayed passage to the villages and in some cases required lengthy detours. The heavy snowfall events caused severe problems in the Dolpo. One child from Saldang was killed by an avalanche. Many animals were trapped in avalanches and died. Some access routes were severely damaged by avalanches.
In 2019 we funded five schools:

Saldang – our first school, we are working in conjunction with Freunde Nepal of Germany
Komang – our second school, in conjunction with Tripod of Koma from Sweden
Karang – the third school, we added Karang with a grant in 2016; we are now the primary sponsor for this school with some ancillary support from Switzerland and the US
Ku – in 2018 we provided a one-time grant to Ku. After meeting with the school coordinator in December we decided to continue our support. This school has multiple sponsors.
Tiling – this is a new school for us. In February, I met with the people from Tiling when they lost a primary sponsor. For 2019, we have agreed to a one-time grant to fund the transport of all supplies and to purchase food supplies for teachers and for student lunches.
We determined that, once the schools were funded, it was critical that we begin to meet challenges in areas of public health and improved medical care access. Water and sanitation-related diseases are some of the primary reasons children don't make it to their fifth birthday. 
Public Health – Safe Drinking Water
Nurses from the Upper Dolpo and public health specialists maintain that at least 50% of the Dolpo's health problems are related to contaminated drinking water. Many get sick with vomiting and diarrhea, especially during the rainy season when water from the hillsides, littered with dung, collects in the water courses. Diarrhea killed a five-year-old child at Saldang this summer and one project teacher came perilously close to death. Even after infusing four bags of saline the nurse was still not sure the teacher would survive the night.
We have begun work with ENPHO, (Environment and Public Health Organization). They are a NGO that specializes in the "WASH" program (water purification, sanitation – compost toilets and general hygiene practices). WASH was started by CAWST, a Canadian NGO. Both NGOs work with people in impoverished areas; they are experts in providing cost effective, simple technologies for access to safe drinking water, compost toilets and hygiene.
Clean water really does save lives.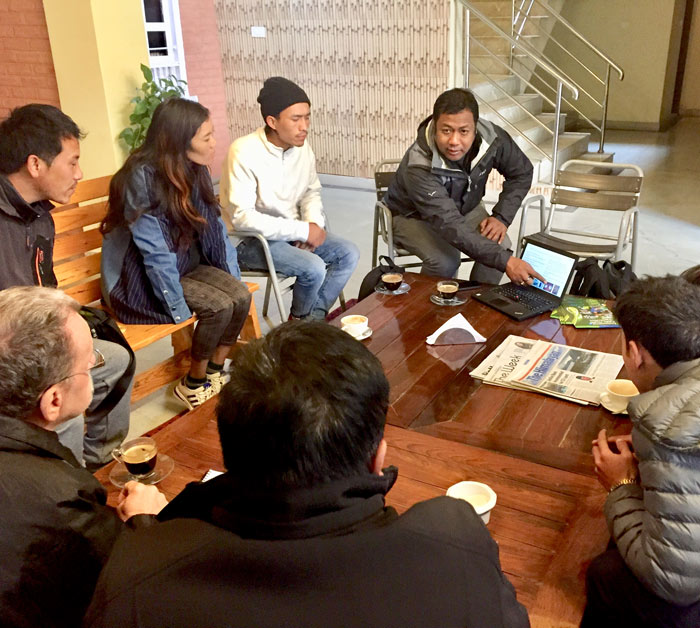 Bipin Dangol, Executive Director, met with us to introduce ENPHO programs to school coordinators
The health posts at Namdo, Saldang and Karang provide very basic care. They are closed in the winter, the time of year when people get very sick! Very treatable diseases and injuries can be life altering, or life ending. 
The infant mortality rate is ~50% here and ~25% of mothers die during childbirth. There is an amazing hospital at Bhejir (funded by American and Swiss donors) but patients must cross a 5,000+ meter pass to get there – not an easy task even when healthy! A long-term goal is to create a similar small-scale hospital at either Saldang or Karang that could provide a higher level of health care with basic testing like blood chemistry and ultrasound. I was pleasantly surprised to learn that the annual budget of the hospital at Bhejir is only $35,000 US. Last year they treated ~1,000 patients. 
Most nurses in the Upper Dolpo are originally from this region and have returned to help their villages. Tashi Bhuti Lama, originally from Bhejir, decided to become a nurse at age 3 when she witnessed her mother's death during childbirth. Now 29 years-old, she is a shining example of how education in the Dolpo helps their communities.
9 year old Jigme lost his hand, and nearly his life, because he lived several weeks away from medical help, and antibiotics, in Kathmandu. His story underscores the desperate need for a small hospital in Karang or Saldang that is open year round. 
Enjoy the video. His joy is contagious! Altitude Project initiated contact with Victoria Hand Project and I was privileged to be with Jigme in Kathmandu for the final fitting of his new prosthetic hand. I met with him 2 months later and he said it is so much like a real hand that he sometimes forgets that it is not. 
Huge thanks to Victoria Hand Project and Amit Ratna's Limb Care Clinic in Kathmandu. Also to Google for providing grant money for this project.
200 Menstrual Hygiene Kits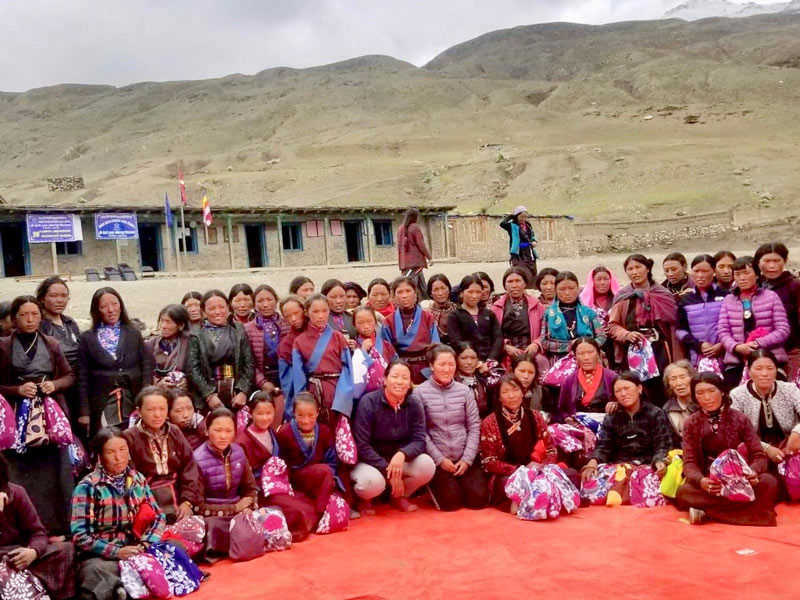 Something new – we will be delivering 200 reusable menstrual hygiene kits during our trek this fall. These kits are only $10 each but are life changing for the girls and women of the Dolpo. We will deliver the kits to health posts and nurses will distribute them and give classes on fertility, biology and hygiene.  "Days for Girls" which employs women from remote areas of Nepal, produced the kits.
We learned about these kits from Nomads Clinic and Tsering Wangmo, an award winning nurse from the Dolpo who has become a good friend. Nomads Clinic delivers up to 1,000 of these kits each year during their one-month mobile medical clinic through different regions of the Himalayas.
Even though the schools here do not go beyond grade 6, because some students start late, students range in age from 3 to 16. Girls without access to menstrual pads often stay home. If they miss an average of four days of school each month, that is 20 per cent of the school year. Too often this leads to lower grades or dropping out of school altogether.
Each colorful kit contains underwear and 8 reusable menstrual pads, as well as soap, a snap in system and carrying bag. The kits are washable and can last up to five years.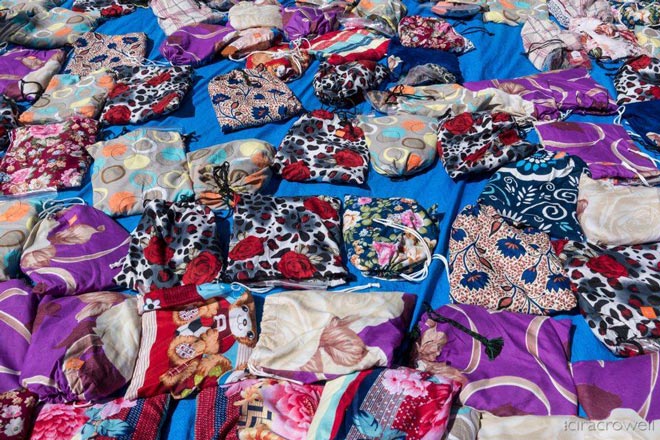 Solar Lights – by LuminAID
We have delivered another 125 solar lights (by LuminAID) this year. These simple lights make a difference. To have a light in the home in the evening is a game changer; it allows children to work on their studies in the evening. Travel between homes and night becomes easier and they are extremely useful for trips to the toilet as well.
There have been reports that leaving lights on at night helps to deter snow leopards, especially at high summer camps where some villagers stay to give their animals access to better grazing grounds (and to keep them out of the barley fields!)
REED – Teacher Training Initiative
Altitude Project, along with 8 other NGOs from around the world, provided funding for the first year of a teacher training program. Sixty teachers from the Upper Dolpo received ten days of training in Dunai in the Lower Dolpo. This training is important – most of the project teachers are not trained as teachers. They are people from the Dolpo who have completed high school and / or college in Kathmandu and that wish to return to help people in their villages. Part of the training program includes follow-up in the field to help the teachers implement their new skills. This is an exciting initiative and we are proud to be part of it. It will improve the learning outcomes for students and it provides a path to certification for these teachers. The training program will be ongoing for at least two more years.
Yak Girl – Dorje Dolma 'YAK GIRL' book tour!
Dorje was extremely well received at each stop on her book tour (9 events in 7 days!). At venues in Nelson, Vernon and Kelowna attendance records were smashed. One of Altitude's goals with this project was to broaden our audience about our work in the Dolpo. Mission accomplished!  The number of new donors and people interested in Altitude Project as a result of Dorje Dolma's "Yak Girl" book tour last winter exceeded expectations.
An award winning documentary, about her brother, The Only Son, was screened at the Nelson Civic Theatre, February 4.
The next event for Dorje was to be the keynote speaker at the WOW Women's Achiever Awards in Kathmandu as part of International Women's Day celebrations. Turkish Airlines and Hyatt Regency sponsored her trip!
Please visit her website to see her latest news. And buy her book!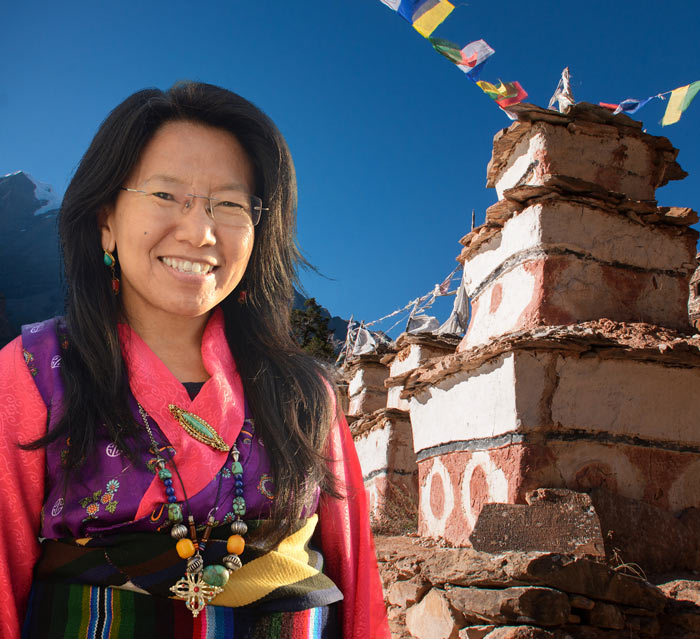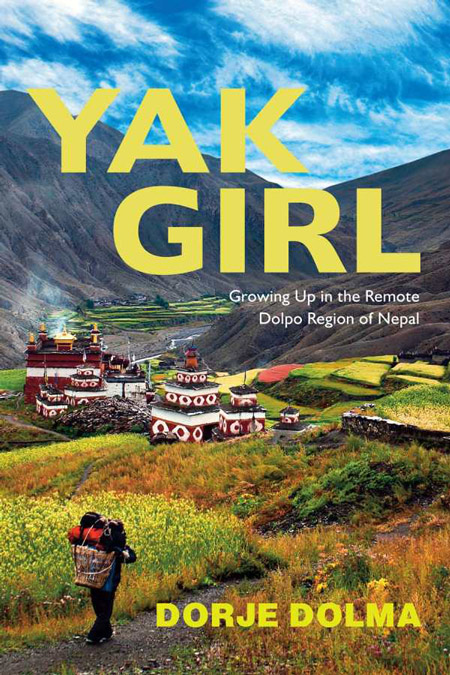 "A rare and fascinating testimony, told from the inside, of a little girl who made an incredible trip from inner Dolpo to America—and from the Middle Ages to the 21st century."
—Eric Valli, director of the Oscar-nominated film Himalaya
This unusual memoir immerses the reader in the fascinating story of a spirited girl in a remote, undeveloped region of Nepal near the border of Tibet, a place made known to the world in Peter Matthiesen's The Snow Leopard. Life above 13,000 feet in northern Dolpo―often called the last paradise because of its breathtaking snow-capped peaks, untouched beauty, and hand-irrigated green pastures―was one of constant risk and harsh survival. In the 1980s, Dolpo had no running water, electricity, motor vehicles, phones, school, or doctors, other than the local lamas, trained in the use of herbs and prayer.
Dorje Dolma's life centered around the care of her numerous younger brothers and sisters and the family's sheep, goats, and yaks. At age five she began herding and was soon taking the animals high in the mountains, where she fought off predatory wolves and snow leopards. Covering her first ten years, the story takes Dorje from her primitive mountain village to the bewildering city of Kathmandu, and finally to a new home in America, where she receives life saving surgery.
With humor, soul, and insightful detail, the author gives us vividly told vignettes of daily life and the practice of centuries-old Tibetan traditions. She details the heartbreaking trials, natural splendors, and familial joys of growing up in this mysterious, faraway part of the world with its vanishing culture. The sharp increase in recent years of western trekkers to the area, and the introduction of modern communication and transportation, is causing rapid change in Dolpo. This wonderful and surprising tale of survival, loss, and self-reflection offers us entry to this difficult, yet magical place.
Above all, this is the inspiring story of an indomitable spirit conquering all obstacles, a tale of a girl with a disability on her way to becoming a dynamic woman in a new world.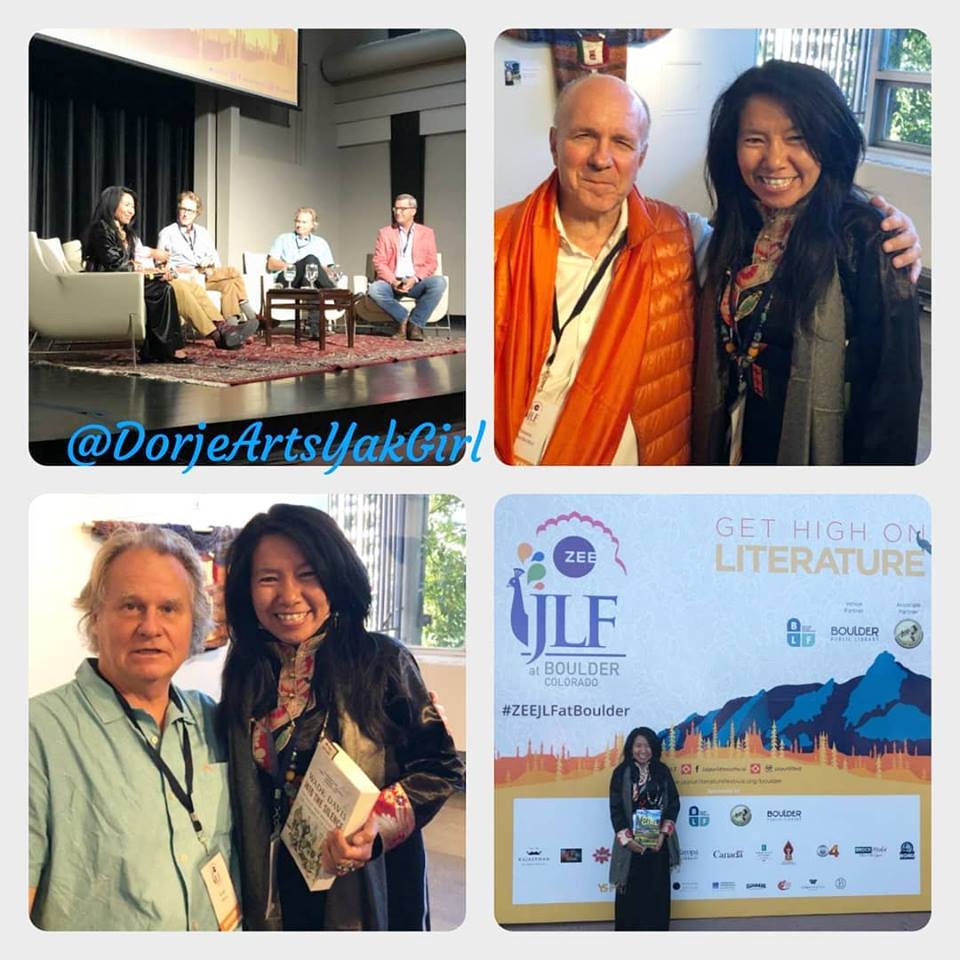 Dorje at the Jaipur Literature Festival, in a panel discussion, and with Simon Winchester and Wade Davis
was screened at the Nelson Civic Theatre.
Tickets were $11.
All proceeds went to the people of the Dolpo
The Only Son is a documentary about Yak Girl Dorje Dolma's family and the challenge of keeping Dolpo's ancient culture alive. Dorje's brother, Pema, grew up in the Rokpa Children's Home in Kathmandu. The film centres on their parent's expectation that Pema will return to Dolpo when he graduates, marry a Dolpa woman, and manage the family land.
photo courtesy of Wiro Felix
Location of  Saldang, Karang and Khoma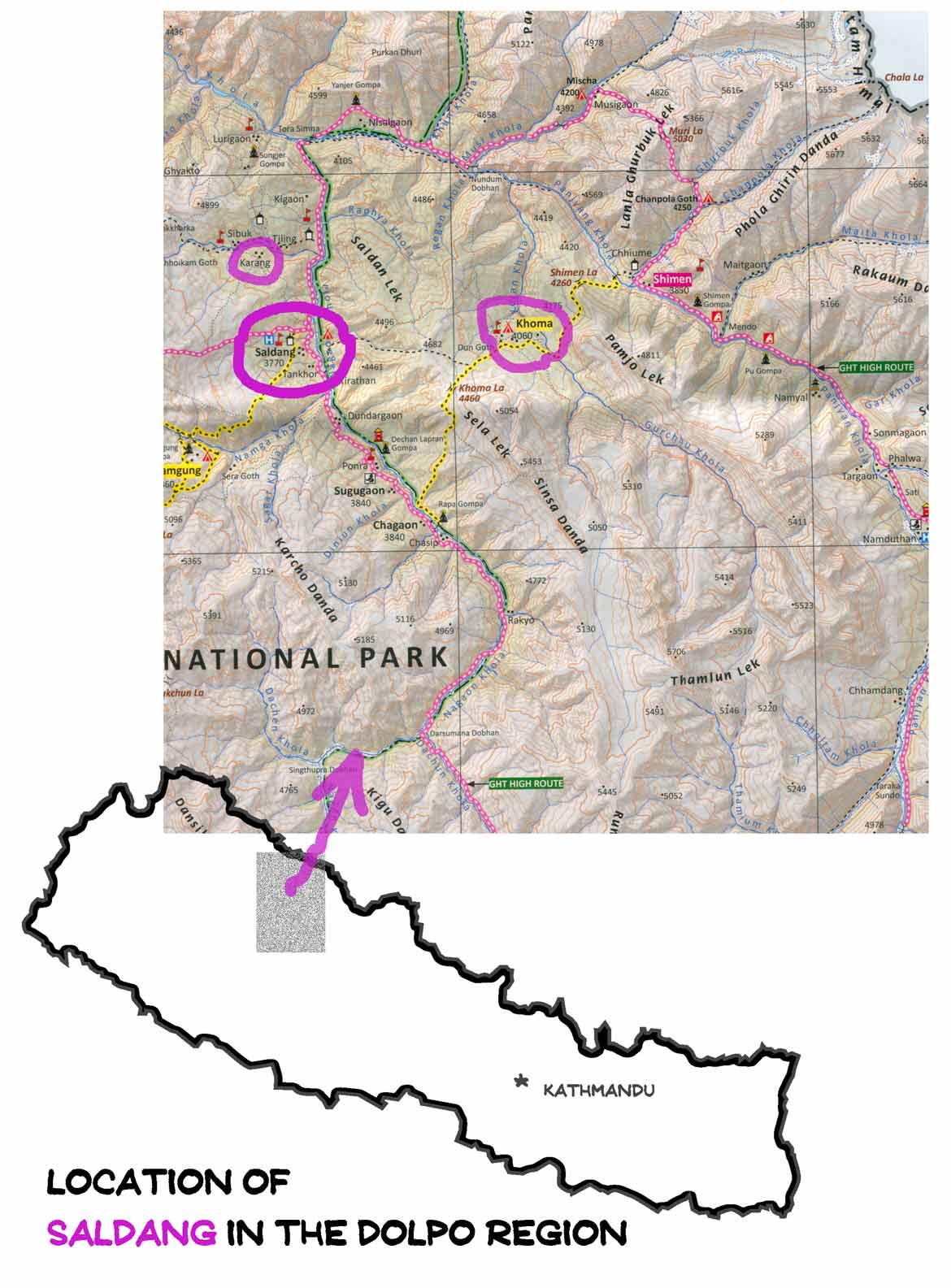 Thank you to all who were able to donate this time!
"Only a life lived for others is a life worthwhile."
― Albert Einstein