Please accept our sincere and heartfelt thanks to all who have been able to donate so generously to the 2019 campaign to support schools, along with some new initiatives, in the remote Upper Dolpo region of Nepal! None of this is possible without your kind and generous support – Thank You!
Here is a short summary of our projects in 2019:
School is in Session – Climate Change – unprecedented snowfall
Public Health – Safe Drinking Water – Testing / Assessment
REED – Teacher Training at Dunai – Completed!
Karang Hostel in Kathmandu
200 Menstrual Kits
New Donors re: Dorje Dolma Book Tour – Yak Girl!
Solar Lights by LuminAID
Travel Plans for fall 2019
Additional "Ways to Donate"
School is now in Session!
The high passes were extremely difficult to cross this year due to an unprecedented amount of snowfall. Climate change is real here; in 2017 there was little to no snow in the passes and in 2019, the amount of snow delayed passage to the villages and in some cases required lengthy detours. The heavy snowfall events caused severe problems in the Dolpo. One child from Saldang was killed by an avalanche. Many animals were trapped in avalanches and died. Some access routes were severely damaged by avalanches.
In 2019 we are funding five schools:

Saldang – our first school, we are working in conjunction with Freunde Nepal of Germany
Komang – our second school, in conjunction with Tripod of Koma from Sweden
Karang – the third school, we added Karang with a grant in 2016; we are now the primary sponsor for this school with some ancillary support from Switzerland and the US
Ku – in 2018 we provided a one-time grant to Ku. After meeting with the school coordinator in December we decided to continue our support. This school has multiple sponsors.
Tiling – this is a new school for us. In February, I met with the people from Tiling when they lost a primary sponsor. For 2019, we have agreed to a one-time grant to fund the transport of all supplies and to purchase food supplies for teachers and for student lunches.
Public Health – Safe Drinking Water – Testing / Assessment
Contaminated drinking water is a serious issue in the Upper Dolpo. Many people get sick and some die as a result. They have asked for our help here.
"WASH" training (water, sanitation, hygiene) was provided by ENPHO to teachers and nurses from several villages in Dolpo in February and filters were supplied so drinking water at the schools can be purified. This is an important first step as teachers can now ensure children have clean drinking water while at school and they can help villagers understand the importance of boiling water to keep children healthy at home too.
The next step is to evaluate the water supplies at the villages to determine the types and degree of contamination and to assess the sites for water treatment options. We were hopeful that an expert could visit some villages with us during our upcoming trek but it is simply not practical – too long and too arduous. Using a helicopter to have an expert attend could be an option but we cannot, at this time, justify the high cost.
Our friends from CAWST in Calgary have suggested that it would be best to train me to do the water testing and to collect information necessary to look at longer-term water purification options. The two water purification options that we have discussed are biosand filters, which are used extensively throughout the world, and ultraviolet treatment, which would require some power. I'm confident we could get help from Peter Werth of Himalaya Currents to help with the power needs. 
REED – Teacher Training Initiative
Altitude Project, along with 8 other NGOs from around the world, provided funding for the first year of a teacher training program. Sixty teachers from the Upper Dolpo received ten days of training in Dunai in the Lower Dolpo. This training is important – most of the project teachers are not trained as teachers. They are people from the Dolpo who have completed high school and / or college in Kathmandu and that wish to return to help people in their villages. Part of the training program includes follow-up in the field to help the teachers implement their new skills. This is an exciting initiative and we are proud to be part of it. It will improve the learning outcomes for students and it provides a path to certification for these teachers. The training program will be ongoing for at least two more years.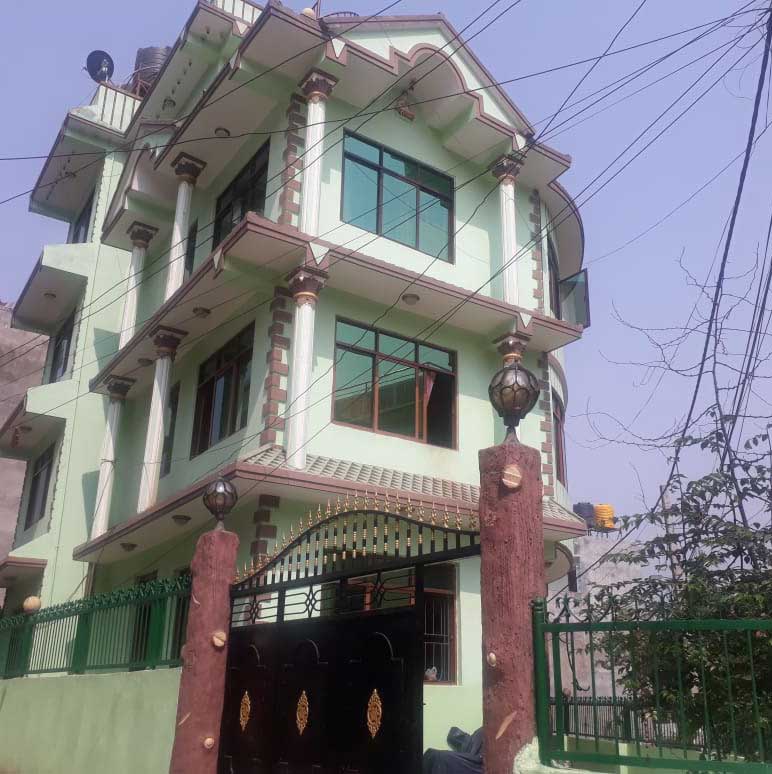 Karang Hostel in Kathmandu
Schools in the Upper Dolpo only teach to grade 5 or 6. Children wanting a secondary education must move to Kathmandu. Each village has a hostel in Kathmandu where the students live and study with other children from their village. They are supported by hostel staff, who are also from their village. This helps to maintain a sense of community and culture – a critical factor when they move from a village of 500 to the completely unfamiliar and chaotic environment of Kathmandu, population 1 million.
The village of Karang recently opened a hostel for its grade 5 graduates. Funding was provided by the government for the first half of the year but the hostel requires support from the international community to continue. The anticipated operating cost is $10,000 US. That includes rent, utilities, food, school fees and supplies and staff wages. Our dream is to find sponsors who want to help with this project on an ongoing basis. If this interests you, please email me.  And if you ever travel to Nepal, the hostel would be a very easy place to visit to see the fruits of your kindness.
200 Menstrual Hygiene Kits
Something new – we will be delivering 200 reusable menstrual hygiene kits during our trek this fall. These kits are only $10 each but are life changing for the girls and women of the Dolpo. We will deliver the kits to health posts and nurses will distribute them and give classes on fertility, biology and hygiene.  "Days for Girls" which employs women from remote areas of Nepal, produced the kits.
We learned about these kits from Nomads Clinic and Tsering Wangmo, an award winning nurse from the Dolpo who has become a good friend. Nomads Clinic delivers up to 1,000 of these kits each year during their one-month mobile medical clinic through different regions of the Himalayas.
 "Noteworthy was the joyous and grateful response of the women who received education and the kits."
Even though the schools here do not go beyond grade 6, because some students start late, students range in age from 3 to 16. Girls without access to menstrual pads often stay home. If they miss an average of four days of school each month, that is 20 per cent of the school year. Too often this leads to lower grades or dropping out of school altogether.
Each colorful kit contains underwear and 8 reusable menstrual pads, as well as soap, a snap in system and carrying bag. The kits are washable and can last up to five years.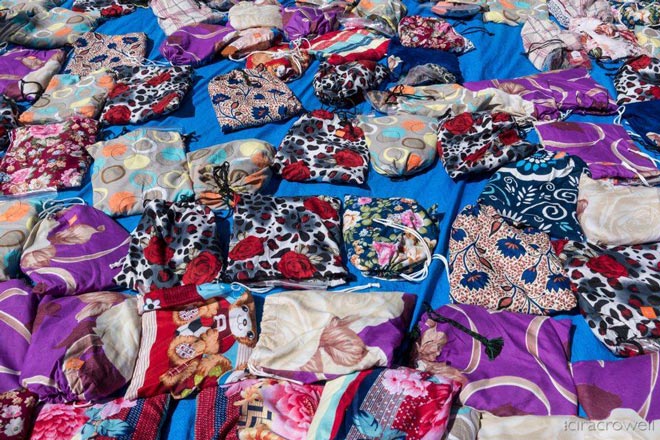 Solar Lights – by LuminAID
We have delivered another 125 solar lights (by LuminAID) this year. These simple lights make a difference. To have a light in the home in the evening is a game changer; it allows children to work on their studies in the evening. Travel between homes and night becomes easier and they are extremely useful for trips to the toilet as well.
There have been reports that leaving lights on at night helps to deter snow leopards, especially at high summer camps where some villagers stay to give their animals access to better grazing grounds (and to keep them out of the barley fields!)
New Donors – from Dorje Dolma's Book Tour
The number of new donors and people interested in Altitude Project as a result of Dorje Dolma's "Yak Girl" book tour last winter exceeded expectations. Thank you to all who have so generously donated and have shown an interest in our project!
Special mention is required for two new donors:
One person has decided to come to the Dolpo in September with our group to see the place, the people and our work first-hand. He is interested specifically in water purification and is considering a significant donation to help in that regard.
Another person read about Altitude Project in our local paper and is interested in funding fuel-efficient stoves and greenhouses. He is providing four stoves for villagers to test. The co-ordinator of Saldang School is surveying villagers to determine how many greenhouses might be needed. This very kind donor is willing to help fund these initiatives. Climate change has made the growing season in the Dolpo unpredictable, and the vegetables that can be grown in greenhouses – greens, carrots, cucumber, cauliflower, cabbage and squash – dramatically improve nutrition and food security. Field crops here are basic, barley, buckwheat and potatoes.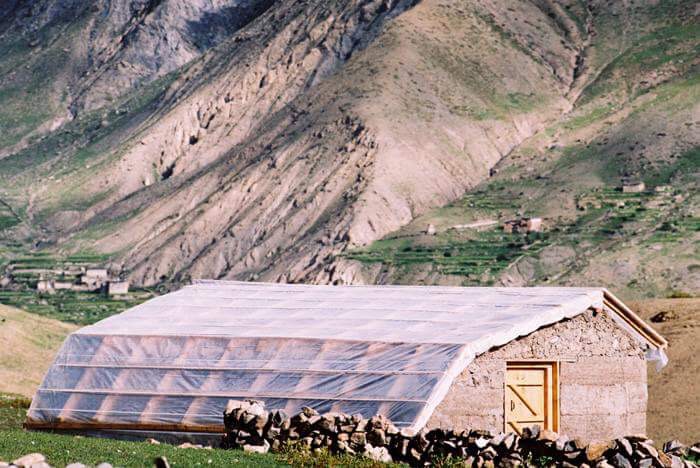 Beautiful greenhouse at Karang School, funded by Sumchog Kersbergen, Dorje Dolma's sister


2019 Fall Trips to the Upper Dolpo:
We have two trips scheduled to the Upper Dolpo during the fall of 2019. There is still room on the first trip in September but the second trip in October is full. You can read more about the two Dolpo trips here. If you have an interest in the first trip, please contact me as soon as possible.
And very, very, unfortunately, our trip leader and good friend, Dave Gluns will not be able to join the trips year due a serious injury to his leg. We are hopeful that he will have a good recovery and be able to continue trekking in Nepal again in 2020.
Saldang Portraits by David R. Gluns:
A reminder about the slideshow / video by David R. Gluns – Saldang Portraits. If you haven't viewed it yet, it is worth the few minutes to watch it.


 There are two changes to note on the donate page of our website.
The PayPal option has changed. We are now registered with "The PayPal Giving Fund". Visit our PayPal page to make donations with your credit / debit card. The good news is that there are no fees when donating this way so Altitude Project receives your entire donation. This is PayPal's way of giving back – thanks PayPal!
There is an option to make monthly donations on our page of the Canada Helps website. Canada Helps charges 3% for their service but if monthly donations work best for you, please consider using this option.
please be sure to include your name and mailing address when donating. We need both to issue a tax receipt – it is a CRA requirement! Also, please include your email address as we email receipts to save on the cost of stamps!
Tashi delek, Namaste, Sincere Thanks
On behalf of Altitude Project
David Swain
Thank YOU for making a difference!
It always seems impossible, until it's done.
– Nelson Mandela.