Tashi Sumdho Primary School, Ku
We have helped this school for the past two years but thanks to a new charity "Nepal per Te Tashi Delek" founded by Arianna of Switzerland, along with Michel of Freunde Nepal, this school has full-time sponsors as of 2020! We are so very happy for Pema Tsering Gurung, the school coordinator, and for everyone in Ku! 
The village of Ku is even more remote than most villages in the Upper Dolpo. It is very near the Tibet border and is rarely visited by westerners. It is a village of about 200 people. The villagers built the school themselves in 2011 without any international support and have struggled to operate it. They currently have 33 students from KG to Class 3. After that students go to Behjir to finish primary school to Class 6. Behjir is a days journey away by horse, over high passes.
The school teaches the curriculum in Tibetan, Nepali and English. They also teach older students for 1 hour each day.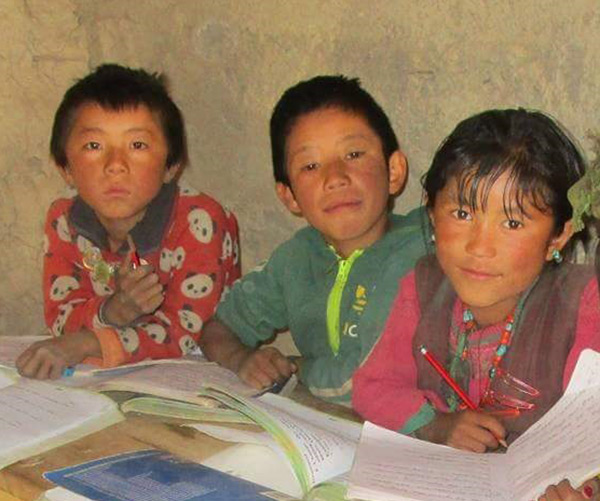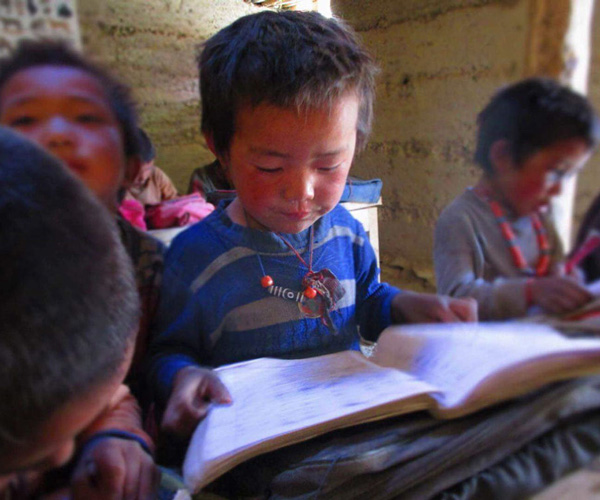 Families give the school 5 kg of rice, lentils, and vegetables each month. The teachers cook lunch for the students as the parents are working in the fields.
We learned about Ku from our good friend Peter Werth.  He has been installing wind turbines, solar systems and even some small scale hydro projects throughout the Upper Dolpo at schools and monasteries for several years. He was funding the construction of a greenhouse for the village and asked if we could help the school as they were in desperate need of funding. We were able to help with a grant of $1,500 that year, and with a $2000 grant the following year. With other small donations from Sweden, Peter, and a European group, the school has managed to carry on.
The village is in need of significant water and sanitation improvements. 
Pema Tsering Gurung is both the project coordinator and the lead teacher. He was born in Ku. When he was seven his parents sent him to to the Snowland Ranag School, a Dolpo school in Kathmandu. When he completed college he returned to Ku to serve his village.
He is the only person in Ku who has been fortunate enough to go to school and he feels "a big responsibility and hope for my village people as without education the people are ill ​equipped to live outside the village. Multiple generations will benefit from the education provided by a local school. If children are deprived of an education then both the local and global community is deprived of opportunity and talent." 
David Gluns, with the help of our great friends at Happy Feet Mountaineers Pvt. Ltd, is planning a trek to the Dolpo and will include the village of Ku on the route. It is almost on the Tibetan border and is rarely visited by trekkers. 
Above Ku, Pema Tsering Gurung