Karang Ghangjion Rikshung Primary School
Thanks to your kind and generous support, we have assumed the role as primary sponsor of this school.
The school is in the village of Karang, the home village of Dorje Dolma, author of Yak Girl. The name of the school translates to Himalayan Traditional Basic school of Karang.
The school has approximately 65 students in classes from nursery to grade 5. We support this school at a much greater level than the other schools we work with. We hope to provide this school with ~ $35,000 (~ $540 per student) annually.
The children are taught not only the national curriculum of Nepal, but also their Tibetan language, history and culture and basic Buddhist philosophy. Children receive a modern education, and local culture and ancient traditions are preserved.
Formal classes run from April 1 to Oct 31. The school is unheated and it is too cold to fully operate it in winter. Some families spend the winter in Kathmandu.
A 'Winter School' is held at the monastery and runs from November through February. Two of the regular teachers stay on, we pay the salary of one. Donations from lamas and Dolpo people living abroad help cover the other. There is no permanent sponsor so it is a challenge each year. In the winter session priority is given to teaching Tibetan culture and traditions, and the local dialect of the Tibetan language.
They also continue teaching adult literacy classes through the winter months. The adult students are eager to learn to read and to write! 20 years ago there were no schools in the Upper Dolpo. This much loved class teaches basic literacy and numeracy skills. Other schools we support offer the same classes for villagers.
Pema Gojor Gurung is the school coordinator. I first met him during our trek to the Upper Dolpo in October of 2017. Pema is a university graduate who, like many other educated Dolpapa, returned home to help his village. His mission is to "provide education to the rural children by inspiring them to learn, grow so that every child gets equal opportunity in education." And to "understand and solve the social inequality through education." Our mission is to help him accomplish this.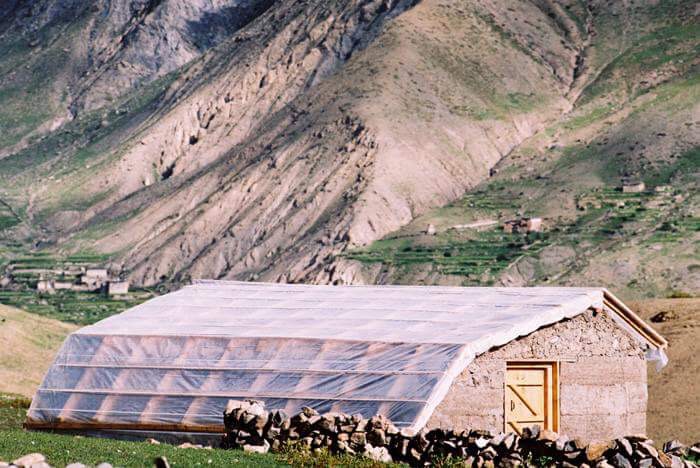 The infrastructure of this school is in good condition. A greenhouse was built with funding provided by Sumchog Kersbergen. She is Yak Girl Dorje Dolma's sister. Sumchog was born in Karang and now lives in the Netherlands. The greenhouse provides greens and vegetables for lunches for the students and their teachers.
Students gather yak dung, it is the fuel used for cooking.
In 2019 the school opened a small library. Here it is, freshly painted.
The books range from fairy tales to modern science, in three different languages, Tibetan, English and Nepali. The children love it!
The school started an environment cleaning program to raise awareness of conservation of the environment and socio-environmental responsibility.
The school has a few other NGO sponsors and private donors that we work with. They are responsible for some great new infrastructure projects like this school wall and gate, designed to help every child feel safe in the school environment.
There is a tap for drinking, washing, cooking and flushing of toilets. Children bathe and wash their clothes at school on Friday. There is no running water in their homes.
There is a close relationship between health and education, and significant investment is needed in both. It is the long held dream of Yak Girl Dorje Dolma to build a small non-profit hospital here, her home village. She has been working tirelessly to raise money for this dream with her book tours. 
Dolma Choekyi is the Health Assistant at the Karang Health Post. She is from Karang. An NGO in Switzerland, Schulverein Lo-Manthang, sponsored her education and they now cover her salary. (I met Schulverein Lo-Manthang's founder, a trekker, Sonngard, on my first  trip to Dolpo in 2015.  She was on her way out and we were just going in. She told me then about her work and I found it interesting – little did I know that Altitude Project was in my future. She has become a dear friend and mentor.) 
Schulverein Lo-Manthang notes that "the training as a Health Assistant was specially created in Nepal due to the shortage of doctors and can probably be seen as a career between nurse and doctor."
Dolma distributed 100 Days for Girls menstrual hygiene kits this year! Of course, some of the students were among the recipients. The school does not go beyond grade five but, because some students start late, they range up to age 16. Girls without access to menstrual pads often stay home. This can lead to lower grades, or dropping out of school altogether.
Dolma provides basic care for all of the villagers.
The school was founded in 2003 by Boris Paulmann, a doctoral student from Cologne. After a trek through the Upper Dolpo he founded "Dolpohilfe" with a handful of friends and together they raised enough money to found three schools, all of which are still in operation. Two fellow students even travelled to Nepal to help teach Dolpo students.
A marriage and a career left Boris without enough time to actively support the schools.The funding situation in 2017 was desperate but, with donations cobbled together from a variety of sources, (including Altitude Project), the school managed to continue. Going forward, Altitude Project will be the primary sponsor for this school.
Pema Gojor Gurung, the school coordinator, was born to a peasant family in Karang. His parents separated when he was six and he moved to Tibet where he was educated for six years at the Jangchup Gephel Monastery. When he was fourteen he returned to Karang to assist his father and sister with their animals and their crops, and to work as a porter transporting wood from lower elevation forests near Phoksundo Lake. At age eighteen he began studies of advanced Buddhist philosophy, Tibetan language and literature at Serajey Monastic University. He has published more than fifty articles in journals, magazines and newspapers and he published his first book in 2014.
He was asked to assume responsibility as the school coordinator for Karang School in 2017 and continues there today.