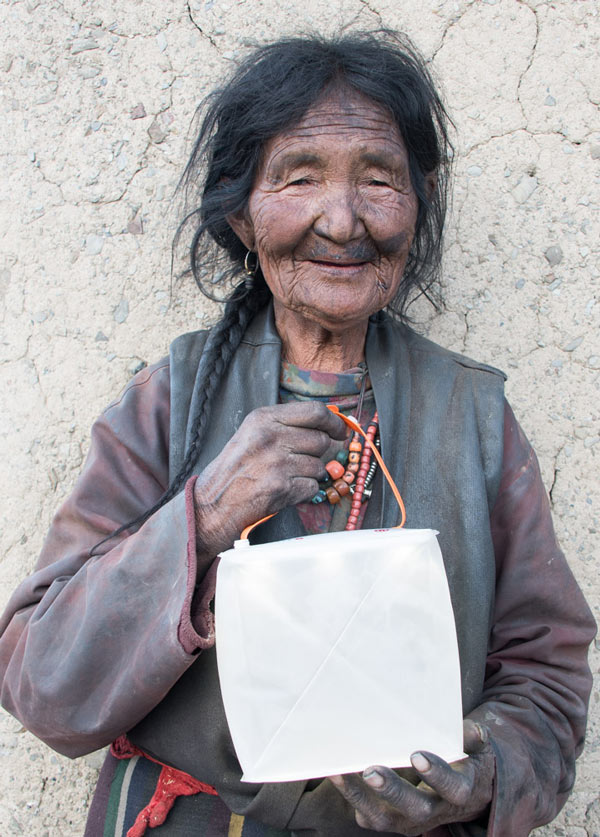 In October of 2017 when we trekked to the Upper Dolpo to visit the schools, we took 15 portable solar lights. The cost of each light is ~ $25 US. They provide ~ 150 lumens and can be hung like a lantern – a very practical design. We wanted to test their durability and usefulness so only took a few.
Kunsang, a teacher at Saldang, provided complete instructions and within an hour, many other villagers were asking for "light?" Since then, 500 solar lights have been delivered and are brightening lives. 
Some homes have a fixed solar light and solar panel – this is becoming more common. Fire from yak dung and twigs, or kerosene lanterns is still the only light source for most households here and the resulting indoor pollution causes pulmonary and eye disease. Many of the older adults suffer from very poor eyesight. A doctor visiting with Nomad's Clinic said "that when he looked into their eyes with an ophthalmoscope he rarely saw a "red reflex"—the red light bouncing off a healthy retina. Instead, he saw the opacity of eyes beginning to form cataracts from long exposure to the blazing sun of the high-altitude desert."
These portable lights have proven to be extremely useful and durable; as a general light in the home, to travel to the toilet at night; to help students read and study in the evenings, and to visit neighbours. There have been reports that leaving lights on at night helps to deter snow leopards, especially at high summer camps where some villagers stay to give their animals access to better grazing grounds (and to keep them out of the barley fields!)
We are able to purchase these at considerable discount for charitable purposes through LuminAID and offer very special thanks for their help! 
"I was born around 1960s and been through lot of changes. There was hard time growing up. The only light we had was fire. When I was young it was not a problem but when you grow older seeing is harder than you think. The light I received from Altitude made my life easier in many ways. It is so portable that I carry it everywhere especially in mountains while herding animals. It works with solar so I don't have to buy extra batteries. At home I use it while going out to toilet, and working at field at night. I want to say thank you!"
– Pema Gurung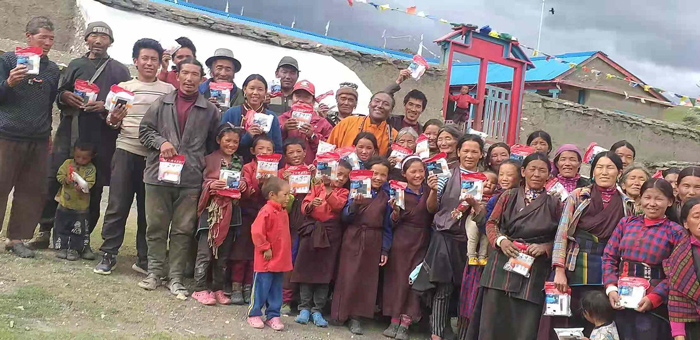 Light distribution at Komang School
photo credit – Tulku Lama
Photo credit – Pema Wangyal
We have one small solar panel for light. It is not good. My grandfather has small light and he give us to do homework at night."
– Dawa Lhamo Gurun
"Little might be the size but huge in impact. Thank you so much. Your distributed lights are used in a best manner. Very useful and worked so well during the pandemic because some the nearest markets borders are blocked. There wasn't enough access of light even at home. None rejects value of light. Moreover, light having free energy from sun to dispel darkness."
-Pema Wangchen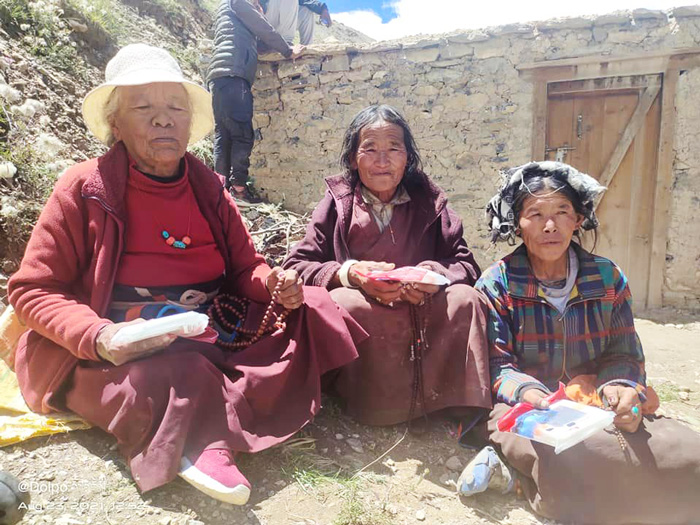 photo credit – Pema Wangchen
images courtesy of Pema Wangyal Lama – Saldang School, and Pema Gojor – Karang School
"Never believe that a few caring people can't change the world. For, indeed, that's all who ever have."
― Margaret Mead