Safe Drinking Water at the Schools
"If education is the key to helping children escape poverty, access to water and sanitation is key to helping children safely maximise their education.
– Kelly Ann Naylor, Unicef global chief of water, sanitation and hygiene
Nurses from the Upper Dolpo and public health specialists maintain that at least 50% of the Dolpo's health problems are related to contaminated drinking water. Many get sick with typhoid fever and diarrhea, especially during the rainy season when water from the hillsides, littered with dung, collects in the water courses. In 2018 diarrhea killed a five-year-old child at Saldang and one project teacher came perilously close to death. Even after infusing four bags of saline the nurse was still not sure the teacher would survive the night.
They asked for our help, and that winter we began work with ENPHO, (Environment and Public Health Organization). They are a NGO that specializes in the "WASH" program (water purification, sanitation – compost toilets and general hygiene practices). We learned about WASH from our friends who founded CAWST, a Canadian NGO. Both NGOs work with people in impoverished areas; they are experts in providing cost effective, simple technologies for access to safe drinking water, compost toilets and hygiene.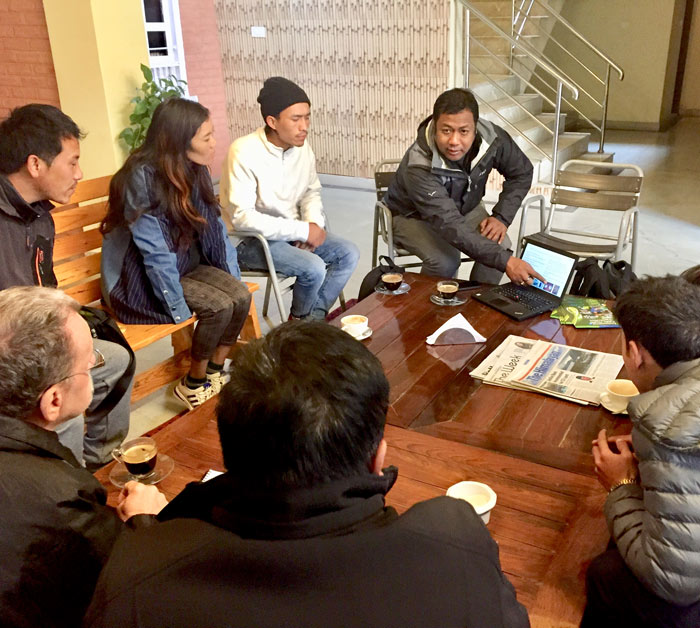 Bipin Dangol, Executive Director, met with us to introduce ENPHO programs to school coordinators
"WASH" training (water, sanitation, hygiene) was provided by ENPHO to teachers and nurses from several villages in Dolpo. Filters were supplied so drinking water at the schools could be purified. Teachers also worked to help villagers understand the importance of boiling water to keep children healthy at home too.
Every year we purchase new filter kits for the schools, and the children no longer get sick because of water quality! The older students ensure the younger students drink only filtered water. $25 buys a set of replacement filters for 1 school. They are a smart and simple solution to contaminated water.
Clean water really does save lives!
Our friends from CAWST in Calgary are helping us with longer-term water purification options. We are currently considering biosand filters, which are used extensively throughout the world, and ultraviolet treatment, which would require some power. I'm confident we can get help from Peter Werth of Himalaya Currents to help with the power needs. 
There is no running water in the student's homes. Carrying water for household use is largely the responsibility of children.
Ku's drinking water source is a 15 minute walk from the school and the village. Villagers installed a pipe from the river but there is no filter system and people get sick in the summer, especially during the rainy season. The ENPHO water filter kits are keeping students and staff at the school safe. Clean water makes happy kids!
There is a water tap at Nyisal School. Long pipes bring water from a spring that is a 45 minute walk from the village. Sometimes the pipes are broken by animals or by rock fall and water must be carried from the river. There is a filter at the school to insure the students always have safe drinking water.
At Karang School there is a tap for drinking, washing, cooking and flushing of toilets. Children bathe and wash their clothes at school on Friday. There is no running water in their homes.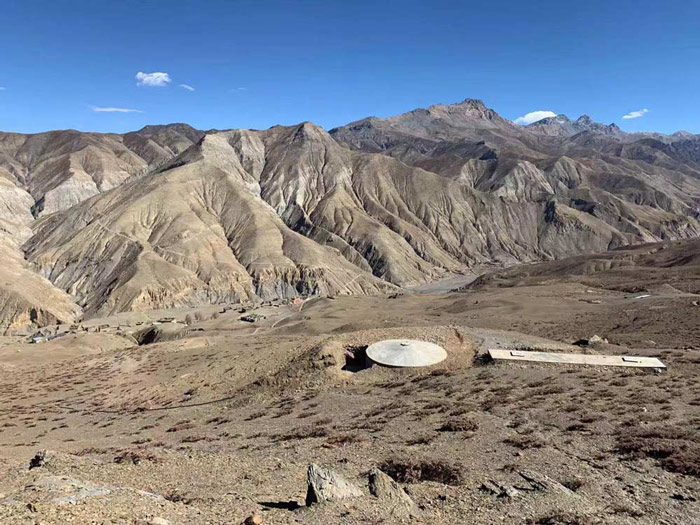 This year the Nepali government installed a 3000L water reservoir along with a series of smaller tanks that act as a filter system. It supplies clean water to the village and the school. Projects such as this are a rare occurrence here. This region has long been ignored, politically, economically and socially, by the central government.
Clean water will be life changing for the village.  Rampant water-borne diseases are being eliminated. Everyone here is looking forward to a healthier future!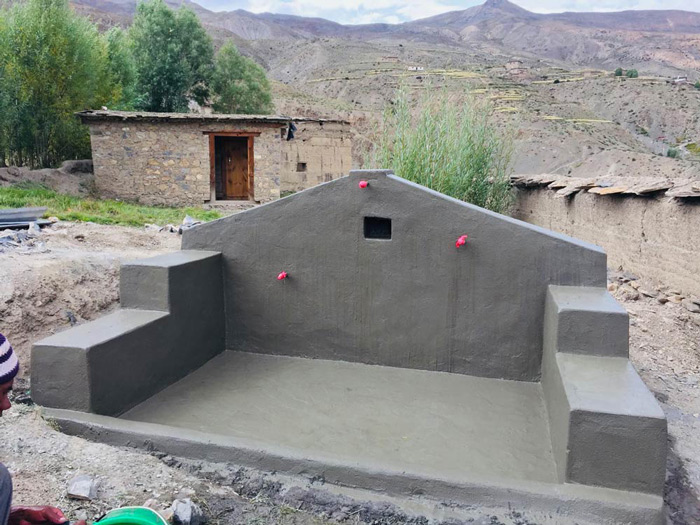 Clean, accessible water is critical to human health, a healthy environment, poverty reduction, a sustainable economy, and peace and security.
– Global Affairs Canada
"Only a life lived for others is a life worthwhile."
― Albert Einstein