Shree Samtem Basic School, Mushi
Mushi village is in a remote area of Dolpo between Shimen village and Nyisal village. It is a one hour walk to the Tibetan border. Last year there were 64 residents in seventeen households. There is a small monastery with a few monks at the edge of the village.
The locals call their village Moe village. They are farmers and semi-nomadic herders. It is slightly warmer here and they can grow white radishes which they sell throughout the  Upper Dolpo.
Until recently the nearest school was in Nyisal, a challenging 3 hour walk away. A few children went to Nyisal School but summer floods and winter snow washed out the trail so frequently it was impossible for them to continue.
The villagers built a classroom for the children, then in 2021 with help from us, Tripod of Koma (Sweden) and Ward chairman Jigme Choeying Norbu Lama, 2 rooms and a small greenhouse were built.
Tulku Lama, a revered Rinpoche and founder of Komang School, shared Komang School's books and food with Mushi School. For the first 2 years one of Tulku Lama's monk disciples, who can read and teach English and Nepali, worked as a teacher. 
When the  monk became seriously ill, Tulku sent Pema Sangmo to teach. When Pema became ill Tashi Topgyal was hired. Tashi is a Komang student who did teacher training in Kathmandu.
I was born in Upper Dolpo village called Namdo. I studied there at Namdo School and I finished my study in Kathmandu at Namdo Hostel with kind support from Schulverein Lo-Manthang specially mom Sonngard.
I always wanted to give back by being a teacher so I returned to Upper Dolpo but due to my health problem (which I have since childhood) I don't get job.
Luckily I met Komang Tulku and I told him I have completed my studies and I am in search of job, I talked to him about my health and his thoughts are completely different from others. He told me you are perfect teacher for Moe School and he was happy to give me job in Moe School so I am still here at Moe village.
I have 10 students, ages 5 to 15, in K through grade 4. Two of the students cannot attend regularly as their families need their help at home and in the fields.
The students have to walk to Nyisal School for grades 5 and 6. They walk home once a month to visit their families. 
There are some girls my age who did not get an education and they tell me how lucky I am. They wish they had a school here before so they could have learned how to read and write.
They come to the school when they can and they are so excited and happy to learn especially numbers like counting 1, 2, 3 … most of them can now recognize numbers, alphabets, and know how to write their names. I am so happy to be able to help them.
I like all the villagers because they are kind to each other and helpful too. At the beginning, I don't know any of them and they are so kind to me and the children are very nice so I am able to stay there for long time. Now they are like family to me. 

Tsering is 11 years old and in class 3. She lives with her Uncle Dhargyal and brother Jigme. Her uncle makes herbs medicine and gives to the villagers, and her brother works in fields. Tsering is very hardworking girl who always helps her uncle to collect herbs during the weekend after her school dress washed. And always helps her brother to work in field as much as she can. She is very active and works like elder people does. Tsering loves to dance and sing too and she is very good student. Tsering wants to study much and become a helper to her village in future. Tsering loves drawing too.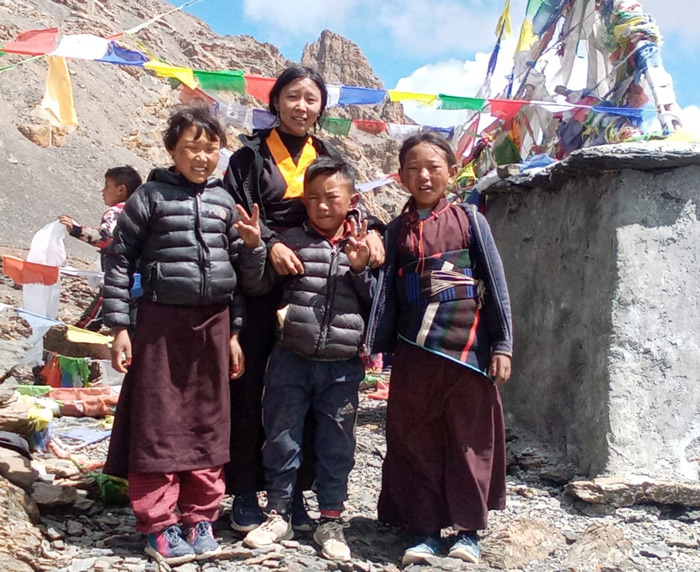 Tsomo is 9 years old and in class one . Tsomo lives with her parents. Tsomo comes late to school always because she goes to bring water for her family and it is 15 minutes aways from her home so she always goes to bring water before school in morning and after school in evening. She is very funny girl that tells lots of jokes and make every one smiles at school. Like, "Today I was coming home with water bottle on my back and on ways Tsering's Cow is talking me … ooooohhhh you are late Tsomo…. Everyone is in school studying and they will become educated person in future but you…. Staying with me???……
She tells jokes every times … she is good singer and she always sings when she is walking, working, or drawing.
$4500 covers the teacher's salary and food, school uniforms, books, some sports equipment, and transport. Food is quite expensive, the villagers provide potatoes but we need to buy kitchen supplies and rice, wheat flour, oil etc. Transport costs are huge. The Tibetan seasonal market has been closed since the beginning of the pandemic, and everything must be carried from Lower Dolpo by mules. The costs are included in the Komang School budget and are managed by the coordinator of Komang School, Nyima Bhuti.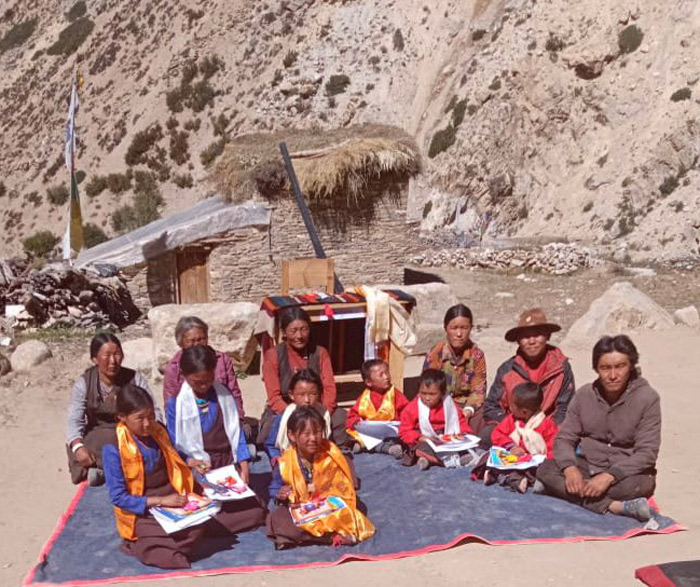 The students have completed their final exams. They did very well! We are so proud of them.