Re-usable Menstrual Hygiene Kits
I learned of these Days for Girls re-useable menstrual hygiene kits from my friend, nurse Tsering Wangmo, co-director of Nomad's Clinic. Nomad's Clinic is a team of medical volunteers who, every year, make a month-long journey into the most remote regions of the Himalayas and Tibetan Plateau to provide medical and humanitarian aid. 
Laila Bergman, a nurse with Nomad's Clinic, wrote,
"Women walk for days in the hopes of getting a kit for themselves or a young girl in their family. This small kit contribution makes a colossal difference to girls and women in rural Nepal, as it allows women to receive education by not missing school during their periods. Dignity for all!"
Tsering considered these kits among the best aspects of Nomad's Clinic. She wrote that "the women who had to worry about the number of layers they had to wear to avoid the embarrassment of menstruating and the discomfort they had with all the layers and the dampness that they had to live with, but were suddenly provided with the reusable hygiene kits with all the necessary materials including underwear – the smiles and the words of gratefulness were worth all the effort and expense." One of her goals is to "free the women of the Himalayas of the stigmas, taboos, hesitation, shame, negligence" associated with menstruation.
Altitude Project provided 200 of these kits in 2019, and another 200 in 2020. In 2021 we partnered with Nomad's clinic. Tsering Wangmo organized the order and delivery of 400 menstrual hygiene kits to the women and girls in the villages of Shimen and Tinje, and for 50 kits to be delivered to Namdo as requested by ward chairman Pemma Wangchen. The kits are only $10 each but are life changing for the girls and women of the Dolpo.
Nurses provide health education as part of the kit distributions. Days For Girls believes that, "Education is the key to creating long-lasting, sustainable change in communities and breaking down many of the barriers girls face."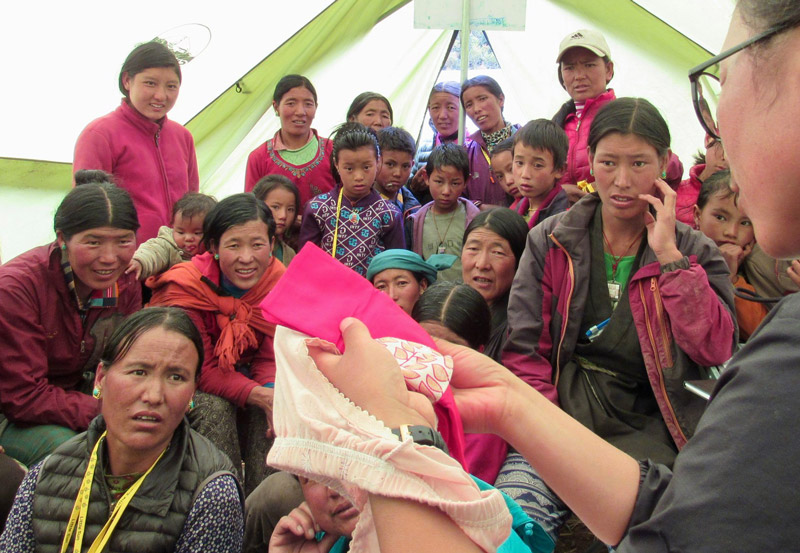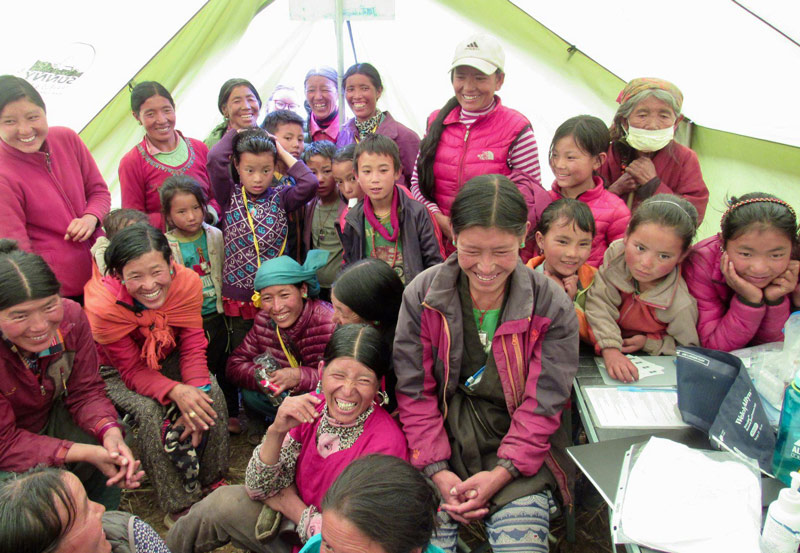 photos courtesy of Laila Bergman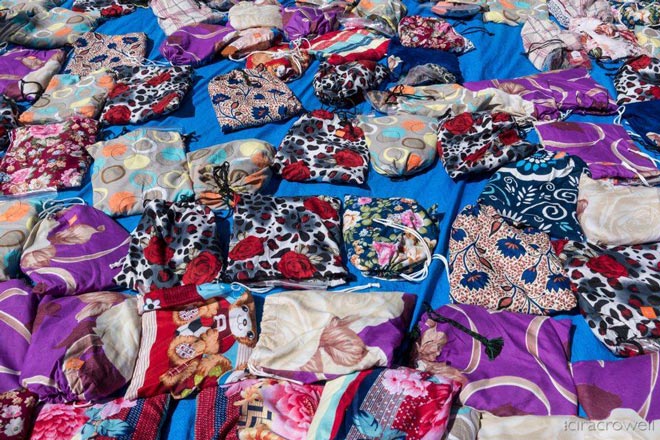 Each colorful kit contains underwear and 8 reusable menstrual pads, as well as soap, a snap in system and carrying bag. The kits are washable and can last up to five years.
Even though the schools here do not go beyond grade 6, the students range in age from 3 to 16. (Students often start late, and, because they are needed to help with household and agricultural/herding chores, they often miss so many classes that they must repeat a grade.) Girls without access to menstrual pads often stay home. If they miss an average of four days of school each month, that is 20 per cent of the school year. Too often this leads to lower grades or to dropping out of school altogether.
These kits don't look like traditional pads…and there's a reason for that. The bright colours camouflage staining. The absorbent liners unfold to look like a washcloth, which allows women to wash and dry them outside in the sun without causing embarrassment. 
 "Noteworthy was the joyous and grateful response of the women who received education and the kits."
Tsering Wangmo also wrote, 'The world would definitely be a better place if every individual carried the intention for being of service and sharing like those who served in the Nomads Clinic. May we be able to integrate our happiness, learning, and experience and reach further.'
"Never believe that a few caring people can't change the world. For, indeed, that's all who ever have."
― Margaret Mead