Student Stories – Komang Hostel
Coming to Kathmandu to study beyond grade 5 is the dream of all the children in Komang school now. These are the three newest students at the hostel.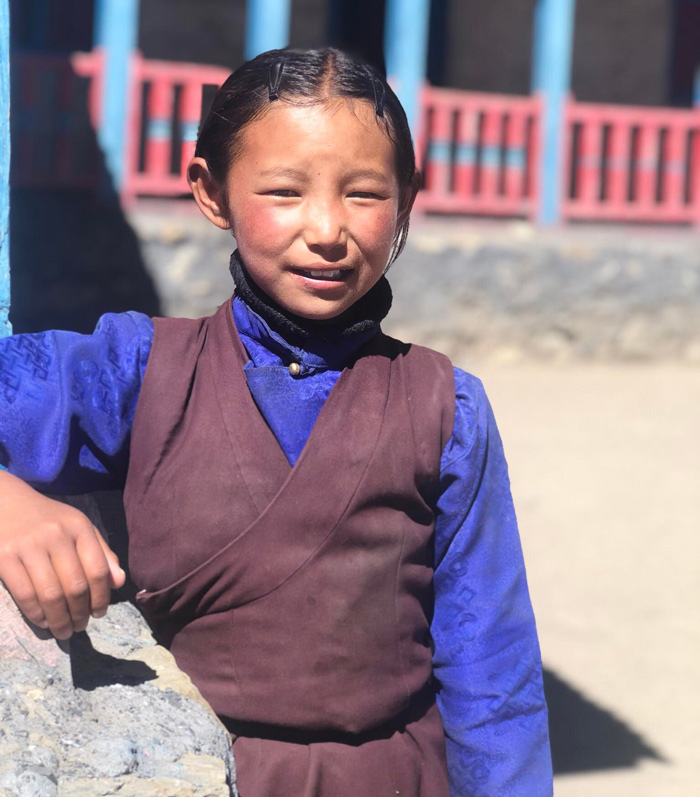 Pema W. is 11 years old. Her birthday is on May 5th. She likes to play games, she especially likes skipping. She is the best student in her class. She lives with her grandparents, her mother, and her sister. Her father remarried and has another family. They rarely get any help from him.
Her mother is a farmer. Her name is Tsering and she works very hard for her family. Her grandparents are very kind and are always supportive. Her sisters' name is Bhuti and she is 9 years old and she is in grade 3. Her family has 1 cow and 1 horse. 
She wants to study further to support her mother in every situation she is facing.

Pema C. is 12 years old. His birthday is on July 25th. Pema loves drawing, and playing games like football.  Pema is the only child and his parents are very caring and good to him. He has 2  grandfathers. He wants to take care of his grandfathers because he always feels they are not happy and they need more food and clothes. Pema's parents both work in the field, rearing animals. His mother sells her beautiful handmade belts to other villagers. They have 1 cow, 2 horses and 23 sheep.
Pema S. is 11 years old. His birthday is on January 27th. Pema is a very funny boy. He tells jokes to everyone and everyone likes him a lot. Especially old peoples and small babies at Komang village like him a lot and villagers are saying that everyone will miss this little boy. 
Pema has a father, a mother, and 2 brothers, one in class 4 and another in class 2. His father is a monk and is a very good dharma practitioner. He is learning Amchi (Tibetan doctor) from our Rinpoche. (Rinpoche says that he has a very kind heart that wants to help others even they have no way of paying. That's very useful for people who are in need). Pema is from a poor family background because his father lost his parents when he was young. Rinpoche's uncle (one of the greatest amchis of Dolpo) raised him, and he gave him a place to build a house. His mother works in the fields. They have 1 horse and 1 cow.

Pema wants to become a teacher.
The stories have been edited for brevity and clarity.
It always seems impossible, until it's done.
– Nelson Mandela.