We NEED your help, so we can continue to help you
People are donating less, and there is increased demand from charities, because of the pandemic. 
Canada Helps, one of the donation platforms we use, has been on the news here lately. They have 86,000 charities on their platform. They note that donations are way down. Many Canadians are not donating at all as covid has created too much uncertainty in their own lives. Those people who are still in a position to donate are increasingly directing their donations locally, especially to food banks. 
Almost all of our donations are generated by our newsletters, we need your help to make them better.  
Every newsletter we send asks donors to send us money to help your school.  We have to show donors that your school needs their help, and we need to show donors how their money is making a difference to your school. 
Canada Helps says that donors are responding most to 'stories' and 'faces'. We need better photos, more compelling stories, kids drawings, and some thanks on social media that we can share with our donors.  
Questions for the Newsletters
We need the newsletters to be interesting and positive. Most of the questions that make up the newsletter is just information that you would be including in your annual reports. We just need a little more 'news' and a little more heart please. People donate with their heart!
Please include anything you think donors might be interested in. Ask the kids, their parents and the teachers for their thoughts and feedback on how the school is going and how it could be better.  Maybe the school could keep a journal where teachers could write down student stories, notes about memorable weather, something interesting a parent or a student said? Anything that brings the school to life for the donors will help with donations. And your words are much better than our words! 
The newsletter will be built around these questions. We need good photos and drawings to accompany each question/answer. 
intro – Please tell us a few interesting things about your village. 
1. How did the school year go? Were there any special events at the school? Any news re infrastructure, water supply, covid etc? 
2. How many students are enrolled this year? How many are regular attendees? What is their age range.
3. Student stories – At least one story about a girl, and a second one about a boy. Include their name, age, grade level, family background, how they are doing at school, and their responsibilities at home. Also, their favorite things to do, their favorite subjects and their career wishes. We need a good quality photo, with the student looking at the camera to go with the story please. We need to know what makes them special, what their dreams are. We especially need to know the hardships that they are overcoming to go to school. We need the stories to be  a bit inspiring, so that donors want to help make their dreams come true. 
4. Please also do a story about a student who is not able to attend regularly. Include the same details as attending students.
5,. Adult education stories – Can you give us stories and photos of two adult students please, perhaps one who has completed classes at the village school but cannot leave the village to continue their education, the other of an adult who has not had the opportunity to go to school? Donors are super sympathetic to these adult students.
6. A teacher story – A few sentences by a teacher about the school and the kids.
7. Parent stories/ parent roles in the school? – How do the parents help the school? Are any parents doing great things? Donors like to know that others are doing what they can to help.
8. Village news – Is there any village news that donors would be interested in? How was the village impacted by covid? By the closure of the Tibetan market? Were any festivals held at the village this year? Is there any news re the gumba, especially if the news has something to do with the students?
9. Environment – Is the village being impacted by climate change? Floods or droughts? Was the harvest good this year? We would like a story and images about the greenhouse please. We would also need stories/images about any events like the rice delivery.
10. Any health clinic news/images? Village health news? Kids health news?
conclusion – Anything you can think of that donors would be interested in knowing about the school would be super. Were there things that donors helped with that made a difference to the school? Things that you need donors help with? 
Images for the newsletters
Smiling faces – We really need more photos of people smiling. We have to show the donors that people are happy to get an education, a new chupa, a solar light, a bag of rice etc. It's better to have a photo of a single smiling person holding a pair of socks than it it is to have a whole row of scowling faces holding something more valuable. Donors wonder why the recipients are so unhappy with what has been purchased with the money they sent. They will not send more money.
This woman looks so happy to be receiving a menstrual hygiene kit that it makes donors want to send more kits, to make more people happy. 
Higher resolution images – We need higher resolution images. They have more impact. They show more detail. Also we can crop them, or adjust the exposure or sharpen them. 200 kb images are passable. 500 kb are better. 1 mb is better yet.
The photos need to tell the story and to inspire compassion. We need well lit, focused images of faces that are looking at the camera or at their work. Smiles help lots, especially if they are holding something that a donor has paid for, it feels like a thank you! 
please note that the last 11 images were taken by professional photographers travelling with Nomads Clinic
This photo is dark and mushy and there is too little detail to see anybody's face. But we use it every year end because the people look celebratory. We want the donors to feel their happiness, to feel like their donations are contributing to that happiness. 
Some more group photos like this would be great! And a note to coordinators, please stand beside or behind the kids. not in front of them.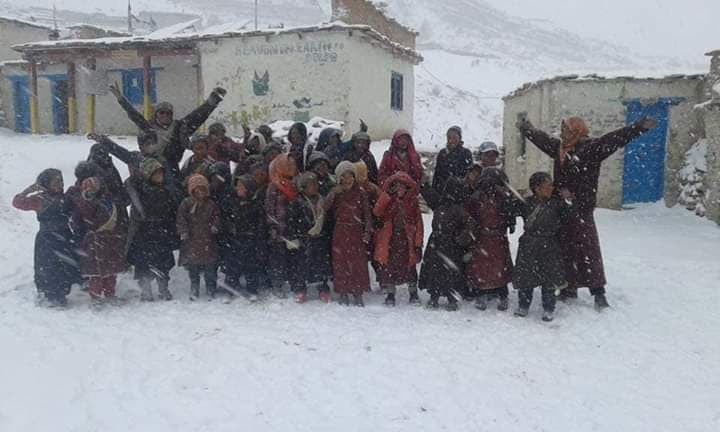 Images that show a need can inspire action. Images like this one prompted donors to offer to pay for desks for the school.
Also we need to show that the schools still need help.
We need some images of older kids working in the fields, caring for animals, milking yaks etc please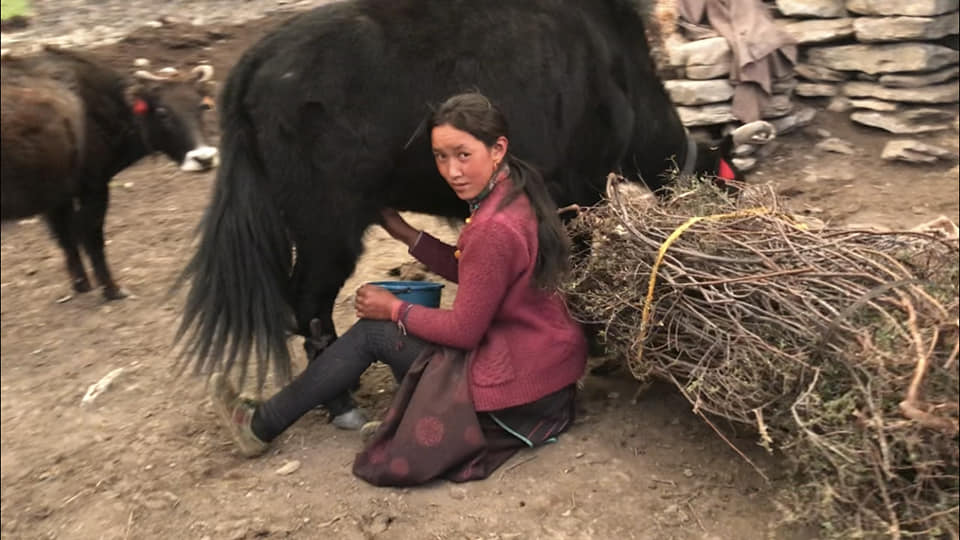 We only have this image from Dolpo Youth Society
We have to show donors new photos each year or they assume we are doing nothing. Remember to save your photos on to a hard drive or google drive .
When sending photos for newsletters, please try to use email or wetransfer for better quality, not facebook.
Donors really love the kids drawings. They need to be drawings of their world please. Not drawings that are inspired by something they saw in a picture book. Bright and blocky, poster style images show best in the newsletter. Kids looking delighted with their drawings make a donor feel their delight. 
We have a serious problem with asking donors for more greenhouses
Telling donors that 50 greenhouses were built with the money they sent does not inspire them to send more money to build more greenhouses. We are using Help Dolpo images, with credits, and donors are wondering why we do not have photos of the greenhouses that they paid for!
We need photos of the family in front of or inside the greenhouse, preferably smiling, and a few sentences about the family, and how the greenhouse is making a difference to the family. We need some high resolution images, at least 1 mb.
This is a really great example. We would much prefer higher resolution photos though please. We need more stories and images like this please. We cannot keep using the same one.
'The greenhouse has helped us in many ways. I found it very useful in winter when I have children to take care of. Inside, it will be warm and no winds. From early spring we can start farming inside and surprisingly these leafy green vegetables grows faster than I expected. Thank you!'
– Pema Dargyal, farmer and yak herder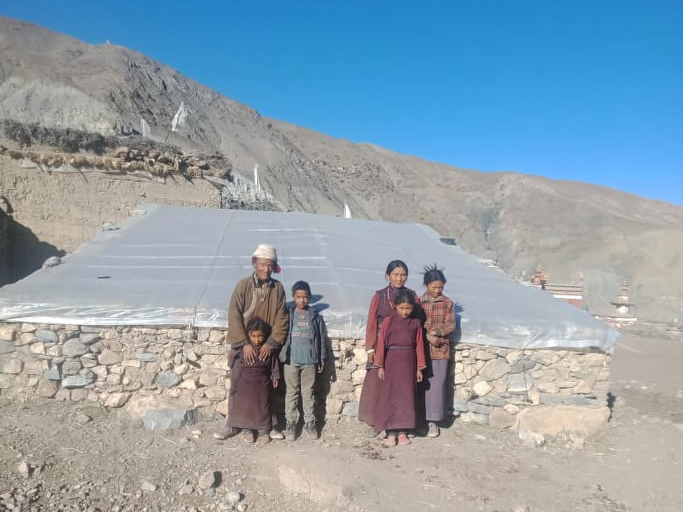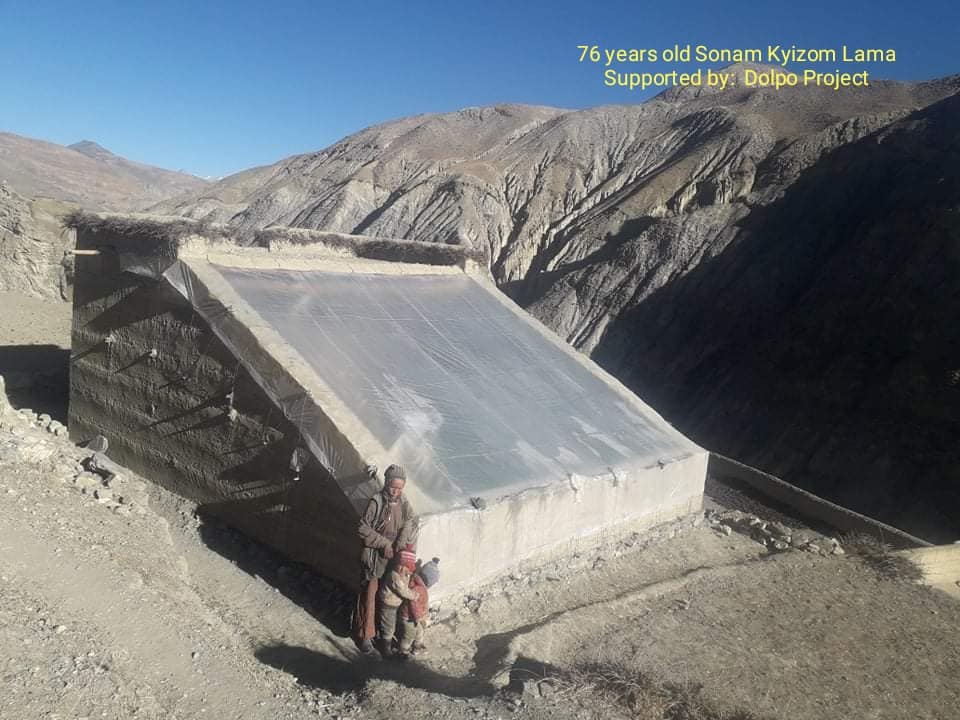 This is an unusual angle that helps show the size of the greenhouse
We would love to replace this photo on our website with one like it!
One with a family holding veggies in front of an Altitude Project greenhouse.
Good social media posts can help us a lot
Social media example – A great thank you photo, and a great added thank you note
"May all beings be peaceful! Gratitude message from Komang villager, Thank you so much for kind support – for providing us solar light to each house individually and inner wear to the women in Komang village.
We are all Grateful to entire team of Altitude projects!! We heartily Thankful for your kindness!
Keep safe and healthy."
-Komang School Family
Thanks in your words are so much better than us telling the donors how many lights or kits were distributed. 
Thanking Altitude Project by name is very much appreciated.
We got a lovely response when we shared this on facebook. We also got a good response when we used it in our yearend newsletter.
Please send us a note when you arrive in Kathmandu. Try to send us the material for the newsletter soon after so we can get started. Providing this information is an important part of your job as coordinator. Please be there when you have agreed to talk with Dorje about questions we have. We cannot create these newsletters without Dorje's help. We cannot help the schools without good newsletters.
It always seems impossible, until it's done.
– Nelson Mandela.