2020 Projects and Reports
There were some unique challenges this year
2020 has presented difficult challenges due to the Covid-19 Pandemic. Much of Nepal has been on lockdown for months and public schools have not been open.
However, schools in the Upper Dolpo were given permission by the Shey-Phoksundo Rural Municipality to open June 18th, 2.5 months later than normal. Our project teachers and coordinators were allowed to travel there after testing negative for the virus in Kathmandu. 
The weeks walk from Juphal to their villages was very difficult, the virus made villagers along the way wary of outsiders so food and shelter was sometimes impossible to obtain. After they reached their respective villages, they quarantined for 14 days before integrating into the village and opening the schools. As of September, there have been no reported cases of Covid in the Upper Dolpo. 
No government teachers have been allowed to travel to the Upper Dolpo so the schools are being operated by our project teachers along with local volunteers. Although this situation is not ideal, it is better than losing an entire school year. 
We are grateful to our project teachers and coordinators, and of course to our kind and generous donors, for making the school year possible!
The school supplies did not reach the villages until mid-August! Extremely heavy monsoons created flooding and landslides, and huge delays.
Supporting education here is our primary focus
The remote Upper Dolpo region is politically and economically marginalized by the Nepali government. The government provides minimal educational and healthcare services. Until recently access to education required moving to a monastery or to a boarding school in Kathmandu. 
The small schools we support enable the children of these culturally Tibetan people to be educated in their home villages. The schools are managed locally. They teach Tibetan language, history, and traditions in addition to the Nepali curriculum. Children receive a modern education, and local culture and ancient traditions are preserved. The schools also offer basic literacy and numeracy classes for adults. Your kind and generous support not only provides an underprivileged community access to education, it helps the people of the Upper Dolpo keep their Tibetan culture alive and thriving, and their high altitude communities to flourish.
100% of every donation goes to the projects here – all admin expenses are covered by directors.
Founded in 2003 and has ~ 65 students
Altitude Project is the primary sponsor for the school at Karang, the home village of Dorje Dolma, author of Yak Girl. This school lost its primary sponsor several years ago and we have been working with several other NGOs to keep it open. In 2020, we made the commitment to become the primary sponsor. The annual budget is $35,000 and we work in conjunction with Pema Gojor, the school coordinator, to determine the annual requirement. The infrastructure of the school is in good condition and it was re-painted this year. They have a very good greenhouse that was built with funding by Sumchog Kersbergen, Dorje's sister, who now lives in the Netherlands. An additional two rooms have been constructed and the intent is to offer up to Class 8 eventually.
We also provide support to the hostel in Kathmandu for the students from Karang that wish to complete secondary education. Pema Wangchuk, the hostel manager, originally from Karang, does a terrific job. He produces the annual report and reconciles the expenditures against the budgets. We are extremely fortunate to have sponsors who have committed to helping the hostel with a portion of the annual operating costs. Recently, a group from France, AMTM – Assistance Médicale Toit du Monde, has agreed to sponsor the school fees for 8 students at the hostel. This is a good example of how charities from around the world work together for common causes. The number of students at the hostel is expected to increase for the next four years until it reaches equilibrium with students graduating and those starting their journey.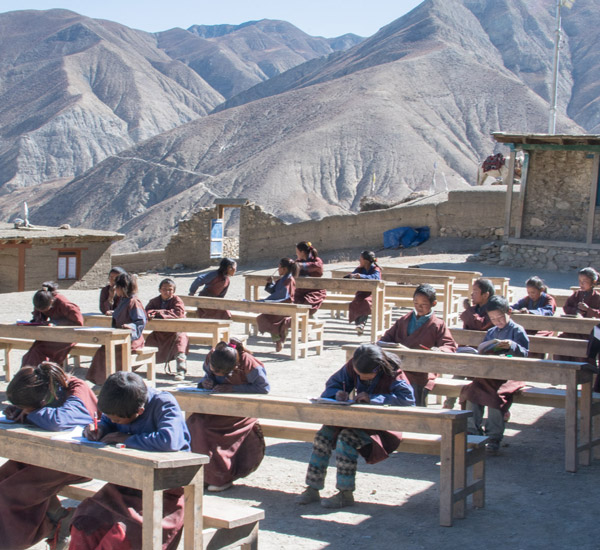 Founded in 1999 and has ~ 85 students
This is the school where Altitude Project began. During my first trek to Dolpo in 2015 I visited this school to charge a camera battery – they have a solar / wind power system. Pema and Kunsang, the school coordinator and his wife, offered me tea and told me the German non-profit, Freunde Nepal, who founded the school in 1999 and had been funding it ever since, was having difficulty raising sufficient funds for the coming year. They asked if I could help and, to make a long story short, that was the beginning of Altitude Project.
This school is also adding classrooms to eventually provide education to Class 8. Unfortunately, the traditional design of the buildings has resulted in leaky roofs during periods of heavy rain. Over time, a layer of plastic is being added under the earthen roof to reduce the problem. Through our work with Freunde Nepal, items such as warm socks, soap, toothbrushes and toothpaste have become part of the annual budget. And we include those items in the budgets for the other schools we work with as well.
Once we started helping this school, Freunde Nepal was able to replenish their accounts and needed less support from us. We contribute ~ $8,000 annually to this school now and that provides funding for Pema and Kunsang as well as for one student, Tenzin Norbu, who is attending a Tibetan exile school in Kathmandu. The hostel that normally accepts students from Saldang was full the year he started secondary education.
Pema has become a good friend and trustworthy ally. He helps us with other projects in the Dolpo such as the distribution of the portable solar lights and the reusable menstrual hygiene kits. He provides the greenhouse materials to villagers willing to build the structures onto their homes or in nearby barley fields. We offer some additional salary to him for his invaluable help.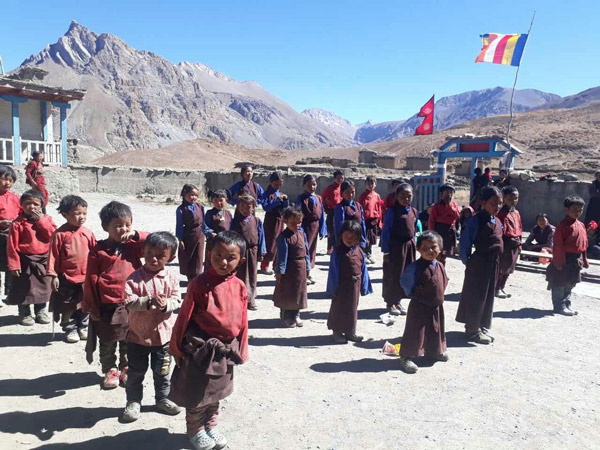 Founded in 2008 and has ~ 35 students.
Altitude Project funds the operation of school at Komang in conjunction with a group in Sweden, Tripod of Koma, and a very generous woman in Germany. We had all traveled through Komang in 2015, and noticed that the school was closed. I was approached by Nyima Bhuti, a young woman who manages the hostel in Kathmandu for Komang children, and who is the first educated person from Komang, to see if we could help the school. This school was started in 2008 by her father, Tulku Lama, a revered lama in the region, along with a man from France who was tragically killed in a paragliding accident after the school had been open for only two years.
As support from our donors grew, we were able to start providing ~ $8,000 annually to this school. We helped fund new toilet blocks which were desperately needed.  We manage the budget for this school in conjunction with Nyima Bhuti, who also writes the annual report and reconciles expenditures. The school was able to install a metal roof over the existing structure in 2018 with support from the government. 
Nyima and her father made the bold decision early in 2020, when the virus was first entering Nepal, to take all the children from the hostel in Kathmandu back to their village. We were able to help with some ancillary costs for the trip like warm jackets and good shoes. Now that there is some internet connectivity in the Dolpo, Nyima climbs to the top of the pass between Saldang and Komang periodically to phone us to provide updates – usually at about 3:00 AM!  Some of the students from the hostel had completed Class 10 and Class 12, and because there are no teachers in the village this year, these students are taking on that role for the children. What a great experience for all of them!  The children and their families are extremely happy to be together again. The question for Nyima and the students is when can they return to Kathmandu so the students can take up their studies again.
This school was founded in 2007 by the villagers without any outside support. It has ~ 35 students.
Ku is a small village in the north part of Dolpo and very close to the border with Tibet. It is at a lower elevation than many villages in Dolpo so they can grow a wider variety of crops. We helped this school in 2019 with a one-time grant of $2,000 and were planning to do the same in 2020. However a group from Europe who trekked in the Dolpo decided to sponsor this school. Arianna, our contact person with Nepal Per Te Tashi Delek, their newly formed charity, contacted us for help to them get started. We are extremely pleased to see another group helping schools in Dolpo!
Pema Tsering Gurung, the school coordinator, is a very enthusiastic and passionate young man. He took the initiative to do a fund raising event during the winter in Kathmandu, a first of its kind, and was very successful. We are glad this school is getting better support now. Pema created the website The Rising Ku to help the school and his village.
This school has ~ 30 students.
Tiling is a small school situated between Saldang and Karang but lower down the mountain, closer to the river. This school lost its sponsor in 2019 and Pema from Saldang approached us to see if we could help them. 
I met with Pema and Yonten Gurung, the school coordinator in Dec of 2018 in Kathmandu. We decided that we could offer some help to transport their supplies to school in 2019 and made a one-time grant of $2,000 that year. This school was really struggling so we increased our sponsorship to $4,000 in 2020. Other NGOs helped with funding as well. We manage the budget in conjunction with Yonten now. We hope to provide additional support to this school in the coming years. The first improvement needed is tables and benches; currently students work on the ground! Dorje's sister, Chunzombuty, lives in this village with her 7 children. Yonten works very hard to ensure the children in this village are able to get an education. We love to support people who are so passionate about their work!
photo courtesy of David Powell
Greenhouses – this is a new initiative for 2020. A shortage of arable land and a harsh climate makes food production here extremely challenging. Field crops are basic; barley, buckwheat and potatoes. 
Greenhouses are becoming critical for food security as the Dolpo is increasingly impacted by climate change. Seasonal precipitation patterns have become erratic, some years there is not enough snow to provide melt water for the villagers water needs, last year there was too much snow and people and their livestock were killed by avalanches. In recent summers, unusually heavy rains have caused washouts of trails, small bridges and the terraces that are used to grow their staple crops.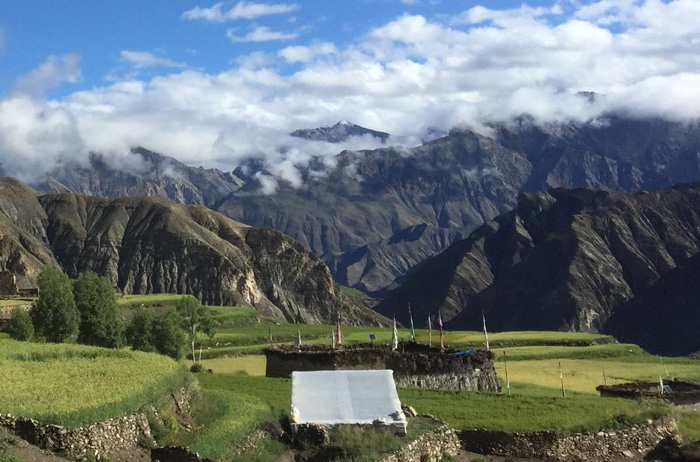 photo courtesy of Peter Hinze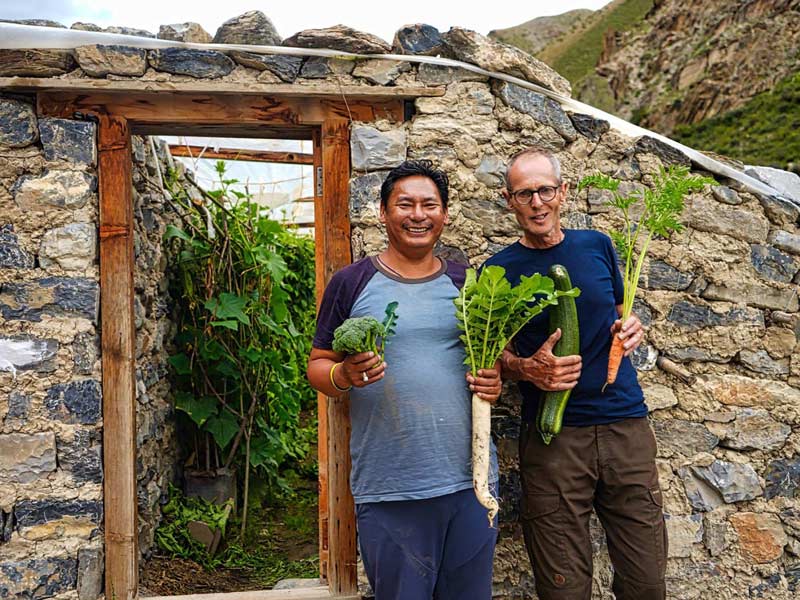 photo courtesy of Peter Hinze
Greenhouses lengthen the growing season significantly and provide nutritious vegetables that otherwise cannot be grown. The ability to grow greens, carrots, cucumber, cauliflower, cabbage and squash dramatically improves nutrition and food security.
Greenhouses also provide a warm, bright room in winter. They are used in the home for activities such as weaving, and in schools for winter classes on the Tibetan culture taught by local monks.
Generous donors provided dedicated funds that allowed us to purchase materials for 20 simple greenhouses that will be attached to homes. 
The cost of greenhouse materials and their transportation is ~ $500 US per greenhouse. Materials such as plastic, wire, hardware, seed and irrigation equipment are purchased in Kathmandu. Any wood products needed for doors and vents are purchased in the Lower Dolpo. Structural walls are made from local materials such as stone and / or rammed earth.
photo courtesy of Peter Hinze (we did not sponsor the building of this greenhouse)
Terraced fields, carved from this high altitude desert long ago, are being damaged, and sometimes destroyed, by unusually heavy rains. 
Terraced fields, carved from this high altitude desert long ago, are being damaged, and sometimes destroyed, by unusually heavy rains. 
photo courtesy of David Powell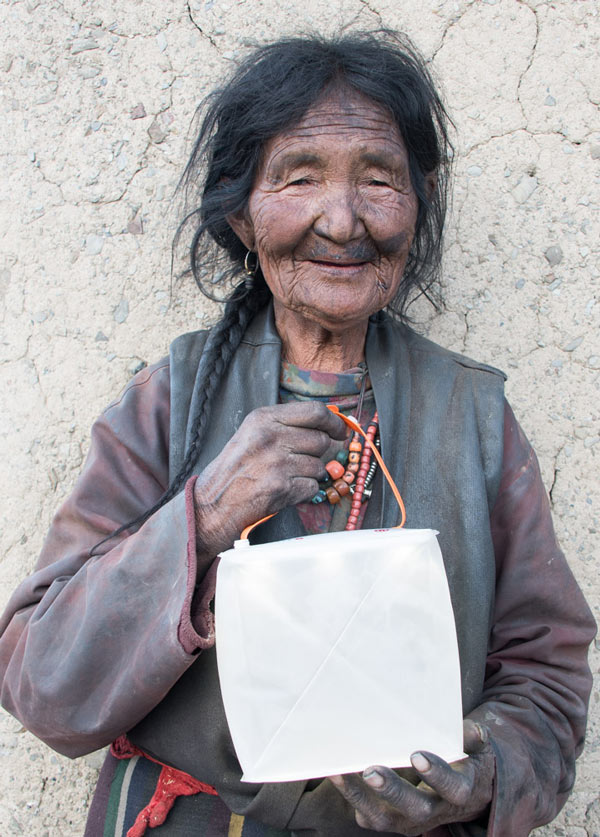 Purchase of solar lights for additional villagers
This year we sent 150 lights to the Upper Dolpo.
In October of 2017 when we trekked to the Upper Dolpo to visit the schools, we took 15 portable solar lights. The cost of each light is ~ $20 US. They provide ~ 150 lumens and can be hung like a lantern – a very practical design. We wanted to test their durability and usefulness so only took a few. Very quickly there was a request for 125 more lights, complete with names of individuals and their village location.
Fire from yak dung or kerosene lanterns is the only light source for most households here and the resulting indoor pollution causes pulmonary and eye disease. These lights have proven to be extremely useful and durable; as a general light in the home, to travel to the toilet at night; to help students read and study in the evenings, and to visit neighbours. Most unexpectedly, they seem to keep snow leopards away from their animals at night when they are grazing them in their high mountain summer camps.
Many of the older adults suffer from very poor eyesight due to exposure to long hours of sunlight working in the fields at 14,000 feet elevation. They say these lights have really improved their quality of life.
We are able to purchase these at considerable discount for charitable purposes through LuminAID and offer very special thanks for their help! 
We delivered 200 Days for Girls reusable menstrual hygiene kits – the number of kits needed was determined by nurses from the Dolpo. These kits are only $10 each but are life changing for the girls and women of the Dolpo. 
Laila Bergman, a nurse with Nomad's Clinic, posted –"Women walk for days in the hopes of getting a kit for themselves or a young girl in their family. This small kit contribution makes a colossal difference to girls and women in rural Nepal, as it allows women to receive education by not missing school during their periods. Dignity for all!"
photo courtesy of Laila Bergman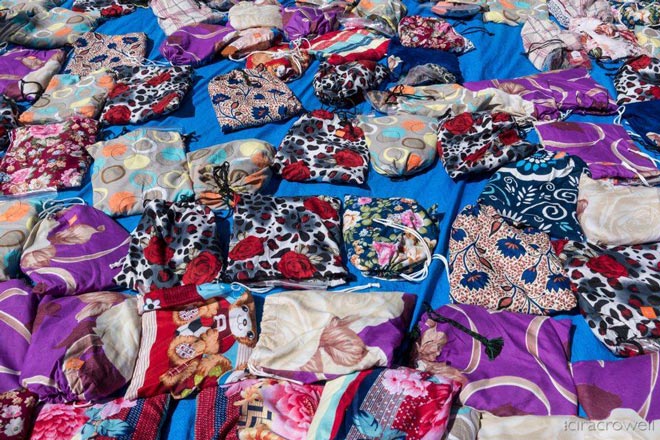 Each colorful kit contains underwear and 8 reusable menstrual pads, as well as soap, a snap in system and carrying bag. The kits are washable and can last up to five years. Nurses distribute them and give classes on fertility, biology and hygiene.
 "Noteworthy was the joyous and grateful response of the women who received education and the kits."
 "Noteworthy was the joyous and grateful response of the women who received education and the kits."
photo courtesy of Tsering Wangmo, Nurse and Co-Director of Nomads Clinic
Soap – A Small Helping Hand with a BIG Impact
Little did we know how important hand washing would be in 2020!
Many of you know that I caught pneumonia on my last trek and had to be helivacced out of the Dolpo to a hospital in Kathmandu.
Pneumonia is a common illness here and many die. Children, especially those weakened by undernourishment are most vulnerable. Improvement of general hygiene, especially hand washing with soap, dramatically reduces the incidence of this disease. (A study published in the Lancet showed that children younger than 5 years in households that received plain soap and handwashing promotion had a 50% lower incidence of pneumonia than controls.)  This inspired us to supply soap for each student as part of the school supplies in 2020. Little did we know…
Tashi delek (Tibetan), Namaste (Nepali) and a sincere Thank you
Tashi delek (Tibetan), Namaste (Nepali) and a sincere Thank you
It always seems impossible, until it's done.
– Nelson Mandela.