The schools in the Upper Dolpo only teach to grade 7. Children who want to continue their education must move to Kathmandu. Each village has a hostel in Kathmandu where students live and study with other children from their village. They live at the hostel until they graduate. They will not see their parents during those 5 years. Most of the parents are illiterate, and they dream of their children succeeding in school.
We are the primary sponsors of both the Karang School and the Karang Hostel.  Initially, students from Karang were absorbed into the Namdo village hostel. When it was full, Pema Gojor, the head of the school in Karang, worked to establish a hostel for Karang students.
Without this hostel, it would have been the end of their dreams of an education. Most of the Dolpopa children who are forced to abandon their education marry early, and have children when they are barely past childhood themselves. A few may enter a monastery.
The first year there were 6 students, this year there are 16. The number of students at the hostel is expected to increase until it reaches equilibrium with students graduating and those entering.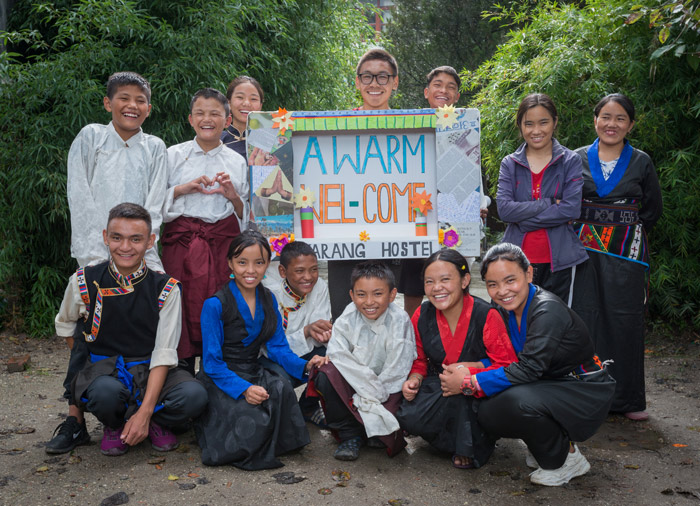 Image credit: David R. Gluns
"It was the first time I came to Kathmandu it was very hard and strange. I stay with my friends from same village at hostel, that make me so happy."
Passang, Grade 7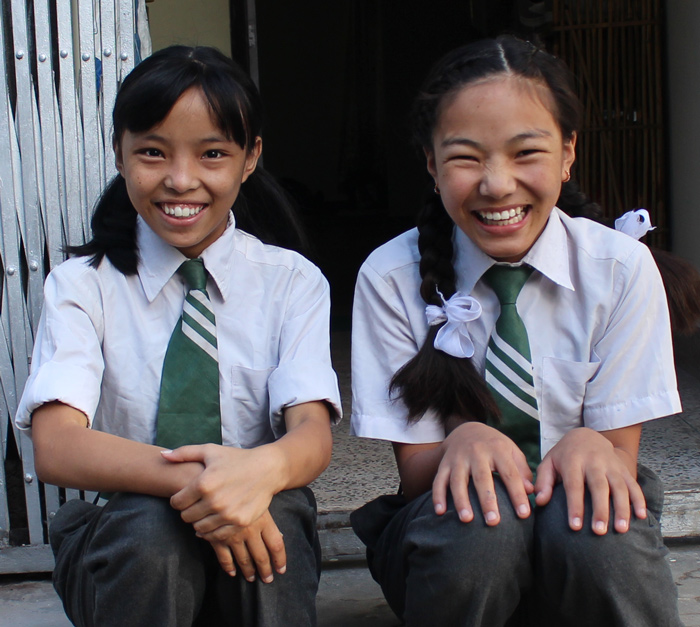 photo credit – Pema Wangchuk
Some of these kids are the first from their village to continue their education beyond grade 5. Sonam and Tsering are from Nyisal, a small village to the north of Karang.
Nyisal is home to about 180 people. Their school in Kathmandu, the Kailash Bodhi Secondary Boarding School, has ~ 900 students.
One of this school's objectives is to provide "groups with a Tibetan cultural background in Nepal with an education opportunity which will preserve their traditional culture."
We are the principal sponsor of this hostel. AMTM – Assistance Médicale Toit du Monde and Schulverein Lo-Manthang also provided generous assistance.
In 2021 the hostel moved into a larger space to accept more students. You can read about it in our newsletter. The hostel manager is looking for an even larger space.
"When I first started school was very hard. I felt different from everyone. I was much older than the other grade 5 students. The teachers spoke English and Nepali and I could not understand them. They scolded me because I lacked basic skills. I have improved a lot."
— Sonam, grade 8
The hostel manager helps the students be successful at their new school
Pema Wangchuk, the hostel manager, is also from Karang. He helps the kids transition from their village to modern life in the city. Most are behind in their education due to a late start, or to gaps in their studies because they had to work. They must pass entrance exams before entering their new school so he works extensively on their English, Nepali and math, and on their exam writing skills, to help prepare them. And there are many lessons on safety rules in the city. Most of them have never seen a bike, or a car.
Many struggle at first, and they are too shy to ask for help from their teachers. Pema encourages the kids to speak up in the class, he meets with the school administrators to educate them about the village kids and he asks teachers to offer extra support and to seat them with children from similar villages, until they feel comfortable in their new world.
Between his help, and their incredible determination to succeed, many are soon the top students in their class.
Visiting Pema and the kids at the hostel
"Our hostel manager, Pema sir, taught us many things. With more new ideas I started to dream different things, started to comprehend many things. I feel very lucky because I got all these opportunities. I am very grateful for everyone who supported me and I want to become a good person and serve back, thank you!"
— Tsering, grade 9
Thank you to an incredibly generous supporter, David Powell
We have a dedicated supporter who has helped with beds and bedding, personal storage closets, and educational materials etc. Last year he funded a small 'computer lab' equipped with desktop computers, functional furniture, and a printer, to help in their more advanced school courses.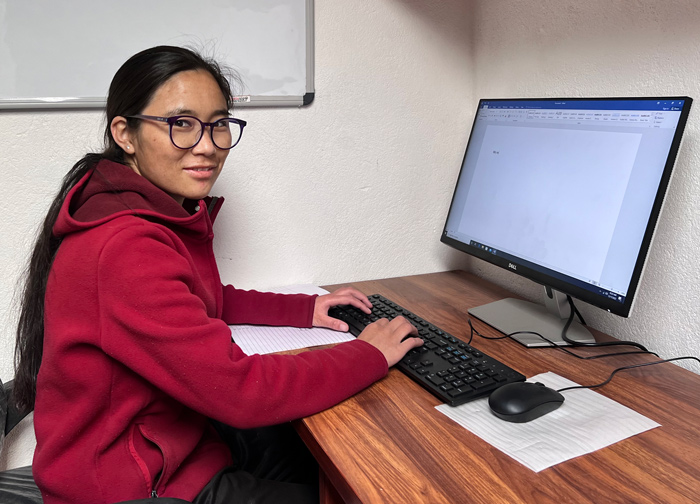 Image credit: Pema Wangchuk Lama, manager Karang Hostel
"I like computer science subject and I always hoping to use one myself. I have seen computers on book back in Dolpo and then at school we share with friends. The day when we got these computers at hostel became my favourite day. Thank you!"
— Sonam, grade 9
"Sleeping on bed is great pleasure that makes me warm and dream sweet as always. Before beds we sleep on floor on mats. I dream of becoming a geologist as best way of helping my village."
— Sonam, Grade 9

"It makes us comfortable to discuss our work together and I use this bed for sleeping as well as sitting to complete homework. I dream of becoming an engineer related to arts and design. I want to draw historical story to keep Dolpo culture history for our village and teach my villagers deeply about education."
— Nyima, Grade 9
Image credit: David R. Gluns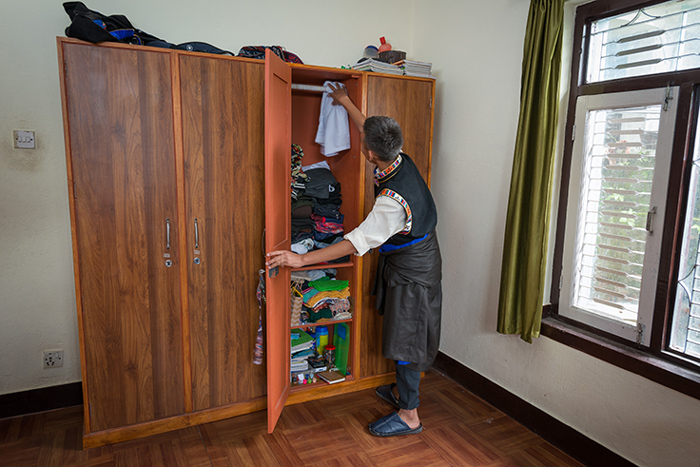 "I like keep my dress in closet because it keeps my clothes clean and safe. We used to keep in plastic bags."
— Phurba, Grade 8
Image credit: David R. Gluns
"With education, I can do something. I can change something, I can change my village. I know the world doesn't move without education. I am saying thank you so much for help in my education!"
— Phurba
In 2019 I did a photoshoot of the children in the Komang and Karang hostels. You can see their beautiful smiles in this gallery.